10 Methods to Break in New Shoes—The Worst to the Best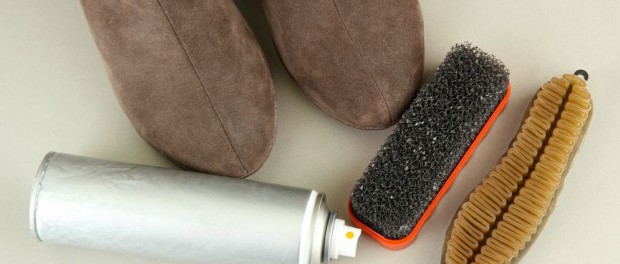 #2–Shoe Stretch Spray
What you need:
Socks you will generally wear with the shoe
Leather, suede or natural skin shoes
Shoe stretch spray
Using a commercial shoe stretch spray is effective for leather, suede, and natural skin shoes.  Follow the manufacturer's instructions as each product may differ slightly, but the general method is to spray the shoes to relax and soften the fibers.  You then wear the shoes until they dry molded to the shape of your foot.  It is important that you wear the stockings that you will be wearing with the shoe.  If you normally wear a thin nylon trouser stocking but stretch them while wearing heavy woolen socks, they will likely be too big.
Many shoe stretcher kits come with shoe stretchers so that you do not have to walk around in the shoe until it dries.
This method is so effective that The Joffrey Ballet School's Book of Ballet-Fit, recommends that dancers who choose leather ballet slippers should buy their shoes tight, spray them with shoe stretch spray, and then walk around the house in demi-pointe until the shoes dry.  This method will mold them perfectly to your feet.