Are Laminate Floors Durable?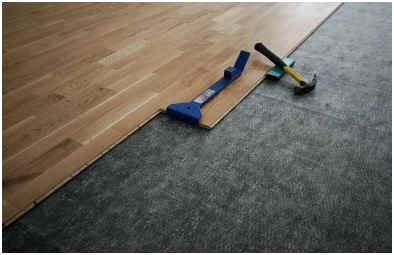 ANSWER:
Laminate floors ARE durable.
More Info: Laminate flooring is a multi-layer product composed of wood shavings and chips, melamine resin and high-density fiberboard (HDF). This synthetic flooring product is resistant to scratches, fading, moisture, warping and swelling. Many laminate flooring manufacturers offer 10-year warranties to demonstrate the durability of this product.
Carpets Collect Dirt
Carpets tend to accumulate dust, dirt, grime, stains and pet hair over time. These dirty carpet fibers can lead to asthma problems. Carpet flooring suffers from fading, shedding, and matting. Carpets require high levels of maintenance and usually only last about five years or so.
Wood Tends to Warp
Wood floors tend to warp, crack or buckle due to moisture or pressure. They can also be easily damaged by scratches or dents. Discoloration can occur due to spills. Some wood flooring squeaks as weak points arise.
Long-Lasting Laminate Flooring
Laminate flooring has a distinct advantage over both carpet and wood surfaces. It can be installed above or below grade with a thickness of 7 to 9 millimeters (5/16 to 3/8 inch). Because it is made of several materials bonded together, each layer has its own strengths. Laminate floors are low-maintenance and long lasting.
Laminate Floor Rating System
The outer layer is moisture-resistant with a hard, resin-coated cellulose. The underlying surface can be made softer or harder depending upon usage requirements. It is important to match the laminate durability level with the residential or commercial use for which it is intended. The laminate flooring rating system is as follows:
AC1 – Light residential traffic in rooms not used much
AC2 – Moderate traffic in residential areas
AC3 – Light commercial use
AC4 – Heavy traffic in commercial settings
AC5 – Heavy traffic in public buildings
Resources
Just Your Floors"Just Your Floors"www.justyourfloors.com
Hardwood Floors Magazine"Installation – Avoid These Mistakes When Moisture Testing Wood Floors"http://hardwoodfloorsmag.com/
Phoenix AZ Carpet "Phoenix Arizona Carpet Maintenance Fading Shedding Matting Odor Soiling Wear." http