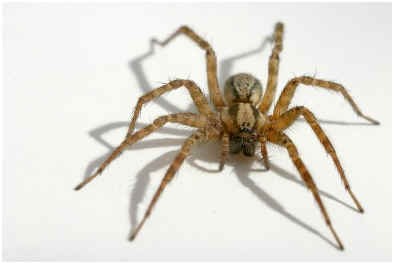 ANSWER:
Spiders are NOT insects.
More Info: Spiders belong to a special class of organisms known as Arachnida.  Like insects, Arachnidas belong to the phylum Arthropoda, which also include ticks, scorpions, centipedes, and other similar organisms. ("Introduction to the Arthropoda", ucmp.berkeley.edu )
Similarities between Insects and Spiders
Belonging to the phylum Arthropoda, insects and spiders share similarities, which include:
Segmented body.
Paired segmented appendages.
Bilateral symmetry.
Chitnous exoskeleton.
Tubular alimentary canal with mouth and anus.
Open circulatory system, a tubular dorsal blood vessel.
Body cavity or coelom.
Nervous system of anterior ganglia and paired nerve cords.
Striated muscles in skeletal system.
Respiration by gills, tracheae, or spiracle.
"Phylum Arthropoda." Department of Entymology . University of Minnesota, n.d. Web. 5 Mar. 2012. <www.entomology.umn.edu/cues/4015/handouts/ Orders.htm>
Arachnida Classification
In addition to the characteristics that place spiders in the phylum Arthropoda, Arachnidas possess book lungs–so named because they look like the pages of a book, a cephalothorax (head attached to thorax) and abdomen, and fangs with venom glands or chelicerae–the first pair of fang-like appendages near the mouth. ("Systematics of the Arachnida.", ucmp.berkeley.edu)
Resources
[1] "Introduction to the Arthropoda." UCMP – University of California Museum of Paleontology. N.p., n.d. Web. 5 Mar. 2012. http://www.ucmp.berkeley.edu/arthropoda/arthropoda.htm
[2] "Systematics of the Arachnida." UCMP – University of California Museum of Paleontology. N.p., n.d. Web. 5 Mar. 2012. <http://www.ucmp.berkeley.edu/arthropoda/ arachnidasy.html>
[3] "Phylum Arthropoda." Department of Entymology . University of Minnesota, n.d. Web. 5 Mar. 2012. <www.entomology.umn.edu/cues/4015/handouts/ Orders.htm>