Can You Start Bell Peppers Indoors?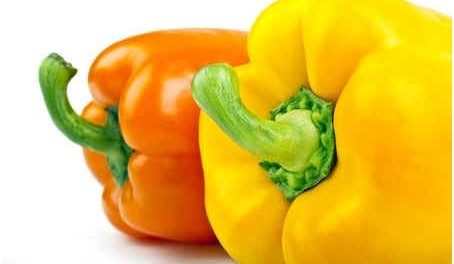 Because bell peppers are slow to germinate, regions with shorter growing seasons will have to start seeds indoors in order for the fruit to develop and ripen prior to the first frost.
When to Start Bell Peppers Indoors
In order to grow nice, healthy transplants, start seeds indoors eight to ten weeks prior to planting.
How to Start Bell Pepper Seeds Indoors
Fill a starter tray or individual peat pots with a soilless germination media and moisten.  These are commercially available and are labeled as starter soils.  Pepper seeds require light to germinate so sow them on the surface of the soil pressing them lightly into the soil to ensure contact with growing medium.  They will grow best in a room with a constant temperature 70-75°F.  Cover with clear plastic wrap to maintain the soil moisture and temperature. Pepper seeds need constant moisture to germinate.  .  When seedlings appear, remove the plastic wrap and move to a sunny location.
Under these conditions, the seeds should germinate within 7-10 days.
Studies have established that larger starting pots result in larger plants.
How to Harden Off Bell Peppers
Because seedlings are grown in a controlled climate, they will need to be acclimated to the outdoor elements prior to permanently transplanting them.
To harden off your seedlings, you first need to find location that is sheltered from the wind and is not in direct sunlight.  Bring your transplants outdoors for one hour the first day.  Add one hour per day each day over the course of a week.  Continue to provide them with consistent moisture.  Add the end of the week, the seedlings can be moved to their permanent home in the garden.
Pinch off any flowers that may have developed on seedlings prior to transplanting.
When to Plant Bell Peppers
Bell peppers thrive in warm weather and soil. If possible, wait to transplant seedlings until the soil temperature reaches at least 70°F. If necessary, you can transplant seedlings after the threat of frost has passed and the soil reaches at least 55°F.  Under these conditions, you should mulch around the plants to help the soil warm faster.
Resources
"Growing Sweet Peppers in Missouri." University of Missouri Extention. N.p., n.d. Web. 3 Mar. 2014. <http://extension.missouri.edu/p/G6372>.
"United States Department of Agriculture." USDA Plant Hardiness Zone Map. N.p., n.d. Web. 2 Mar. 2014. <http://planthardiness.ars.usda.gov/PHZMWeb/>.
"Vegetable Overview: Bell Peppers." Sophisticated Gardening. N.p., n.d. Web. 3 Mar. 2014. <http://www.sophisticatedgardening.com/vegetable-overview-bell-peppers.html>.