Best Way to Clean Laminate Wood Floors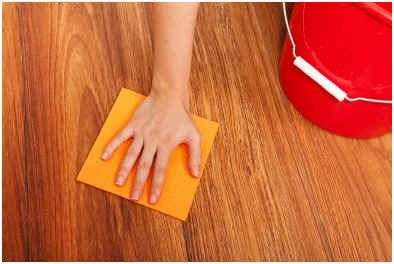 The best way to clean laminate wood floors is with daily dust mopping.  They should also be damp mopped routinely.  Here's how.
Everyday Cleaning
Dust mopping your floor daily will keep your laminate floors free of debris.  You can also use your vacuum cleaner with the soft brush attachment.  Avoid using the beater brush meant to lift and clean carpet fibers as this coupled with dirt and sand could scratch your laminate surface.  Spills should be cleaned up immediately as well as any sand that has accumulated on the surface.
Heavy Cleaning
You can damp mop your floor occasionally as long as you are careful not to soak the floor.  Avoid using soap-based detergents to clean your laminate floors as well as any cleaners that are abrasive such as scouring powder or steel wool. Laminate floors are not meant to be waxed so avoid using any product designed for this purpose such as liquid floor wax or mop-and-shine products.
Resources
"Laminate Floor Care Instructions from Armstrong." Flooring, Ceiling and Cabinet Products by Armstrong. N.p., n.d. Web. 9 Nov. 2011. <http://www.armstrong.com/flooring/floor-care/laminate-care-instructions.html>.
"How Do I Clean My Laminate Flooring." Builddirect.com. N.p., n.d. Web. 9 Nov. 2011. <www.builddirect.com/Laminate-Flooring/Laminate-Floors-FAQ_6951.aspx#How do I clean my laminate flooring>.