Can a Cell Phone Company Read Your Text Messages?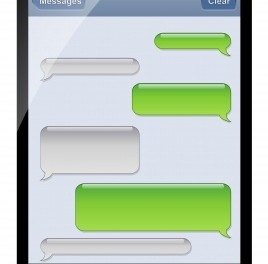 Cell phone companies record the data sent to and from your cell phone including calls, text messages, and pictures.  Some companies keep this data for a few days, some a few weeks.  They are not, however, allowed to give this information out, even to the cell phone owner.  In serious cases, such as illegal activity, law enforcement may be able to procure a court order to release these records.
"Are Your Text Messages and Images Private? – Lawyers.com."
More Info: In today's digital age, electronic security is always at question thanks to hackers and recent controversial laws. In 2009, it was reported that an average of 2.5 billion text messages were sent everyday in the United States alone. No matter if the message content is for personal or business use, we can't help but inquire if our data is safe.
Messages May Be Stored
Most providers can provide a list of text messages sent and received with the time, date, and telephone number. SMS messages are typically very small in size and would not require a massive amount of storage. Although unverified, there are some reports that providers can store message content for several months. Another vulnerability comes not from the provider, but from individual hackers. It is possible to "clone" a cellular device and intercept incoming messages on certain unencrypted networks.
Text Message Lawsuits
There have been multiple lawsuits in the last few years involving text messages collected as evidence. Most of these cases were based upon messages that were stored in the phones memory, and not retrieved from a central database. Also, it is interesting to know that text messages stored on the device are considered to be protected under the fourteenth amendment of the US Constitution, barring unreasonable search and seizure.
The Answer Is Unclear
Although it is greatly unknown if text message content can be reliably retrieved; security experts recommended to not share personal information such as social security numbers, bank account numbers, etc. via unsecured electronic means.
Resources
"Are Your Text Messages and Images Private? – Lawyers.com." Communications Media Attorney, Lawyer, Attorneys, Lawyers and Legal Research Information – Lawyers.com. N.p., n.d. Web. 30 Aug. 2011. <http://communications-media.lawyers.com/privacy-law/Are-Your-Text-Messages-and-Images-Private.html>.
"2.5 Billion Text Messages Sent Everyday – eCoustics.com." Consumer electronics product reviews, news, articles, forums and price comparisons – eCoustics.com. N.p., n.d. Web. 30 Aug. 2011. http://www.ecoustics.com/electronics/%20products/new/514309.html
"T-Mobile Censoring Text Messages | Threat Level | Wired.com." Wired.com . N.p., n.d. Web. 30 Aug. 2011. http://www.wired.com/threatlevel/2010/09/blocking-text-messages/ .