Can Arthritis Cause a Fever?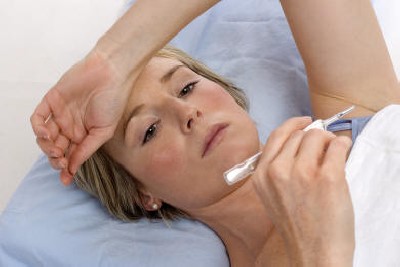 Answer:
Arthritis can cause a fever.
Those suffering from rheumatoid arthritis often experience a low-grade fever as well as fatigue and loss of appetite. [1]
The Journal of the American Medical Association (JAMA) estimates that 1% of the world's population has rheumatoid arthritis, more prevalent among women than men. Arthritis is caused by the body's immune system mistakenly attacking the body's tissues. The lining around joints is destroyed, leaving bones malformed, swollen or inflamed and painful. There are over 100 types of arthritis, but rheumatoid and osteoarthritis are the most common types.
How Fever Works
Fever happens when the immune system sends a signal to the brain that some part of the body is in pain or is under attack by a virus. Since the cells turn on the body's tissues, causing arthritis, it is the perfect time to signal the brain. The body temperature rises, which is thought to burn off the attacking component. In the case of arthritis, there is nothing to burn off because the tissue has already been destroyed.
Symptoms of Rheumatoid Arthritis
Arthritis, or rheumatoid arthritis, hits most women and the few men it attacks between the ages of 40 and 60. It is characterized by locating the joints holding fingers to the hands and hands to the wrists. It then moves to the other arm. RA often advances to the toes and feet, knees, hips and shoulders.
Symptoms include:
Tender heated swollen joints
Stiffness of members upon arising in the
Firm nodules of tissue beneath the skin
General sense of unwellness, low-grade fever, and weight loss
As time passes and the condition worsens, sufferers may notice other symptoms, such as:
Chest pain followed by difficulty breathing
Dry mouth
Dry eyes
Symptoms lasting for years
Flare-ups or symptoms suddenly appearing
Remission, or symptoms disappearing for some time
Can Stopping the Fever Stop Arthritis?
The National Institutes of Health (NIH) reports that doctors are using drugs approved by the Federal Drug Administration (FDA) designed specifically for rheumatoid arthritis. These drugs are classified as disease-modifying antirheumatic drugs (DMARDs). The hope is that by reducing inflammation that causes fever, these genetically engineered drugs will stop structural damage to the joints. This will stop destructive cells in their tracks so they will not attack their own tissue.
In fact, some of these drugs target the immune system itself in order to reverse their inclination to attack the body they are supposed to be supporting. Johns Hopkins University says this will potentially prevent joint damage.
Resources:
[1] Arthritis Foundation
Rheumatoid Arthritis Fact Sheet
http://www.arthritis.org/files/images/newsroom/media-kits/Rheumatoid_Arthritis_Fact_Sheet.pdf

[2] Journal of the American Medical Association
Rheumatoid Arthritis
http://jama.jamanetwork.com/article.aspx?articleid=899676

National Institute of Arthritis, Musculoskeletal, and Skin Disease
Handout on Health: Rheumatoid Arthritis
http://www.niams.nih.gov/Health_Info/Rheumatic_Disease/

Johns Hopkins Medicine
Health Alert: Rheumatoid Arthritis
http://www.johnshopkinshealthalerts.com/symptoms_remedies/rheumatoid_arthritis/94-1.html

Mayo Clinic
Rheumatoid Arthritis
http://www.mayoclinic.com/health/rheumatoid-arthritis/DS00020/tab=InDepth