Can Birthmarks Appear After Birth?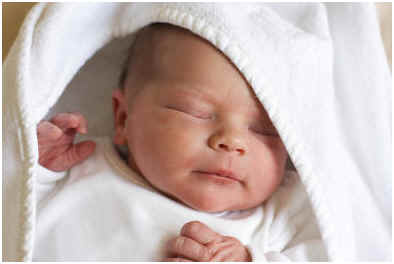 ANSWER:
Yes. Many birthmarks do not develop until hours, days, or even weeks after birth.
What Are Birthmarks?
A birthmark is a skin abnormality such as a mole, a patch of discoloration, or skin tag. Many of these unique marks permanently attach themselves to infants while they are in the womb. However, in many cases, birthmarks such as hemangiomas take more than seven days to show.
Strawberry Hemangiomas
Strawberry hemangiomas, also called strawberry marks, have a distinct red color courtesy of broken blood vessels beneath the skin. The vessels may be broken at birth but the strawberry marks take several days to turn pink and then slowly progress to bright red over weeks. These birthmarks, which are raised and round like moles, not only get deeper in color after birth, but they can grow larger for several weeks after birth. They often appear in multiples and can show up anywhere on the body, including face, neck, stomach, legs and the groin area.
Types of Birthmark most Likely to Appear after Birth
Red-colored birthmarks are the most likely to appear after birth. Black, brown, and other dark-pigmented marks that are not related to broken blood vessels are typically present during gestation.
Birthmarks are distinct from cancer growths. A doctor will be able to distinguish if a growing, discolored blemish is a cancer tumor or a birthmark. Some birthmarks, such as hemangiomas, fade over time; others remain for life. Most birthmarks do not cause harm or pain and do not have to be removed.
Resources
The A.D.A.M. Medical Encyclopedia — NCBI Bookshelf." National Center for Biotechnology Information. N.p., n.d. Web. 18 May 2010. http://www.ncbi.nlm.nih.gov/bookshelf/br.fcgi?book=adam&part=A001440.

"Birthmarks – red: MedlinePlus Medical Encyclopedia." National Library of Medicine – National Institutes of Health. N.p., n.d. Web. 18 May 2010. http://www.nlm.nih.gov/medlineplus/ency/article/001440.htm.

"FloridaHealthFinder.gov | Health Encyclopedia | Birthmarks – pigmented." Florida Health Finder. N.p., n.d. Web. 18 May 2010. http://www.floridahealthfinder.gov/health-encyclopedia/health%20illustrated%20encyclopedia/1/000828.shtml.