Can Laminate Flooring Be Used in a Bathroom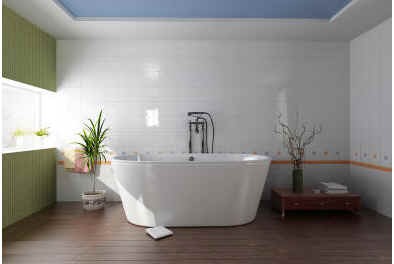 ANSWER:
Laminate flooring CAN be used in a bathroom.
More Info: Laminate flooring can be used in the bathroom as well as other rooms that may be subjected to modest moisture.  It should never be used in any application where there is threat of water pooling on the surface.
While laminate flooring is but an imitation of real wood, it does impart character and warmth. There have been great strides made in the visual presentation of wood laminates such as beveled edge details, deeper graining simulating real wood, and slip resistant characteristics that make it a viable candidate for flooring replacement in your bathroom. Be sure to check the slip resistant rating with your vendor to ensure that it is suitable for a wet location.
Advantages to Laminate in the Bathroom
One of the greatest advantages to using laminate wood flooring is that you do not have to remove the original tile flooring. The laminate "wood" planks simply click together and are installed over a foam pad underlayment. There are many types of underlayment available. Be sure to request the proper underlayment for your particular situation. Of course, if tile substrate is cracked or missing you may opt to remove existing tile before laminate flooring installation. In this case insuring that floor is level once cleaned of all debris is recommended.
Plenty of Choices
There are many accessory pieces available also, such as doorway thresholds, baseboards, quarter-round or toe moldings, etc. making installation fast and economical. You will need a rotary or hand saw to trim planks. A rubber mallet is advisable to tap the planks together for a tight fit as well as a tape measure, a straightedge ruler and marker.
Maintenance
As for maintenance, the laminate flooring has an impervious wear layer. This layer is often designated with an AC rating. The ratings range from 1-5. An AC rating between one and three would indicate a wear layer suitable for residential use. A mid range rating is preferable. Also, please be aware that water and spills should be cleaned up immediately to prevent seepage of moisture down below the protective layer between the planks. Leaving water pooling on the surface for long periods could damage the flooring.
Resources
"Laminate FAQS from Armstrong." Flooring, Ceiling and Cabinet Products by Armstrong. N.p., n.d. Web. 28 Dec. 2010. http://www.armstrong.com/flooring/faqs-laminate.html.
"Balterio Installation instructions ." Balterio | Laminate Flooring | N.p., n.d. Web. 28 Dec. 2010. http://www.balterio.com/install.php?con=eu&lang=en.