Can Laminate Flooring Get Wet?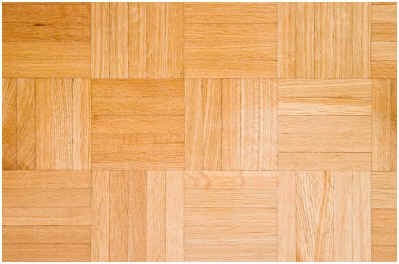 ANSWER:
Laminate flooring CAN get wet as long as water is not allowed to stand on the surface.
More Info: Occasional dampness, such as when you might mop the laminate, is not really an issue. However, for places where there may be puddles left without your knowledge, you definitely want to seal all the joints to make sure your lovely flooring is not ruined.
The Construction of Laminate Flooring
Many homeowners are unsure about how to care for their laminate flooring to keep it looking great for as long as possible. In order to understand the best way to care for it, it is helpful if you know a bit about how laminate is created. The surface of the laminate is a clear plastic with the wood-grain pattern underneath the plastic. This surface is fastened to the core of the flooring using heat and pressure. The core of the flooring is created of high-density fiber or particleboard.
When Laminate Can Get Wet
Because particleboard swells when it absorbs water, manufacturers caution homeowners about allowing water to stand on the laminate flooring. If puddles of water were to sit on the laminate, it could seep through the cracks and edges, ruining the floor. However, if you want to install laminate in a place where puddles might occur, such as the bathroom, dining room, or kitchen, there is a way. You must carefully apply waterproof glue in a seamless line around every joint, and thoroughly caulk the edges using waterproof caulking. This will prevent any moisture from seeping through the joints to ruin the underlying core.

Resources

2011, ©BuildDirect 2001. "Laminate Flooring / Floors FAQ." Page Error. N.p., n.d. Web. 8 Nov. 2011. <http://www.builddirect.com/Laminate-Flooring/Laminate-Floors-FAQ_6951.aspx>.
"Armstrong Flooring Glossary." Flooring, Ceiling and Cabinet Products by Armstrong. N.p., n.d. Web. 8 Nov. 2011. <http://www.armstrong.com/flooring/flooring-glossary.html>.
"Lowes for pros." Lowes. N.p., n.d. Web. 11 Nov. 2008. www.lowesforpros.com/sites/default/files/07%20US%20Laminate%20Brochure_English.pdf.