Can Menopause Cause Nausea?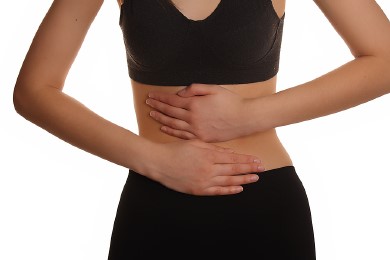 Menopause typically does not cause nausea.(1) The main symptoms of this late-stage fundamental female hormonal change are hot flashes, night sweats, vaginal dryness, insomnia, cold hands and feet, mood changes, and stomach area weight gain. Nausea is usually experienced only as a side-effect of Hormone Replacement Therapy (HRT), Estrogen Replacement Therapy (ERT), and other menopause treatments.
Most Common Symptom
Hot flashes are by far the most common symptom of female menopause, affecting three out of every four women.(2) Flushing across the chest and face area generally starts before a woman's last period and for most women, will last for a period of two years or less. In cases where this happens overnight, the hot flashes are referred to as night sweats.
The reason for all this commotion is the decrease of estrogen levels. A woman's glands react to the lowering levels of this hormone by releasing larger amounts of other hormones, causing the person's body temperature to fluctuate.
Women's Health Initiative
In 1991, several U.S. government agencies came together to launch the Women's Health Initiative (WHI). The purpose was to study the potential negative effects of Hormone Replacement Therapy, one of the ways in which women try to cope with hot flashes and other menopause symptoms.
After studying women who took estrogen plus progestin and hysterectomy patients on estrogen alone, the WHI concluded that these types of treatments actually increased the risk of other medical problems, and also showed no concrete signs of helping mitigate heart disease. The WHI recommends that women refer to Food and Drug Administration guidelines for HRT and ERT.
As with most ailments and afflictions, a proper diet and physical exercise regimen can help reduce many of the risks and discomforts associated with menopause. There is some clinical evidence that tofu and other soy-based foods can dramatically reduce the occurrence of hot flashes. Regular physical exercise can also help keep a lid on the most common of menopause symptoms.
REFERENCES:
(1) University of Maryland Medical Center – Menopause, Retrieved July 19, 2011 from http://www.umm.edu/altmed/articles/menopause-000107.htm

(2) Ohio State University Medical Center – Introduction to Menopause, Retrieved July 19, 2011 from http://medicalcenter.osu.edu/patientcare/healthcare_services/gynecological_health/introduction_to_menopause/pages/index.aspx