Can Water Damaged Laminate Be Repaired?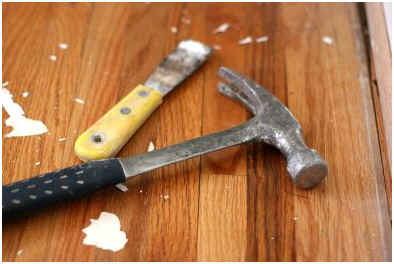 With the popularity of laminate floors growing, it is important to consider the strong and weak points of this type of flooring before purchasing. Every type of flooring available in today's market has advantages and disadvantages. It is wise to consider them before choosing a flooring material for your home. One consideration that must be weighed is the durability of a floor when water damage happens. Will this type of flooring be repairable or need to be replaced? If this floor is reparable, how might this be accomplished?
How Is Laminate Flooring Made?
When considering laminate flooring, know what materials make up this flooring and how it is manufactured. Laminate floorings replicate other materials. It could be a number of species of wood including oak, cherry, pine, chestnut, bamboo, walnut, maple, or stone or ceramic tile. Laminate flooring is made in 4 layers that are laminated together with adhesives, pressure and heat. These layers consist of a stabilizing backing material, a center core of manufactured wood (a dense particle board), a decorative photographic layer (on a type of photo paper that is coated with melamine resin) and wear layers of special melamine resin coated cellulose or some type of hard, clear aluminum oxide. The layers are laminated together and textured with metal press plates. A strong, low cost flooring results that looks like wood or other material and is reasonable in cost.
Can Water Damaged Laminate Be Repaired?
The weak point in laminate flooring is that it can be damaged by standing water. Normal spills that are wiped up promptly are not a problem, but standing water and flooding of the floor will cause damage. The core of laminate flooring is particleboard that when saturated with water can swell and warp. If water is allowed to stand on a laminate floor, it can cause the seams between planks to swell. The only way to repair water damaged laminate flooring is to remove damaged planks and replace them with matching material.
Resources
The brand-new house book: everything you need to know about planning, designing, and building a custom, semi-custom, or production-built house. new york: Three Rivers Press, 2001. Print.
The complete guide to renovating older homes: how to make it easy and save thousands. Ocala, FL: Atlantic Pub. Group, 2010. Print.