Can You Have the Swine Flu With No Fever?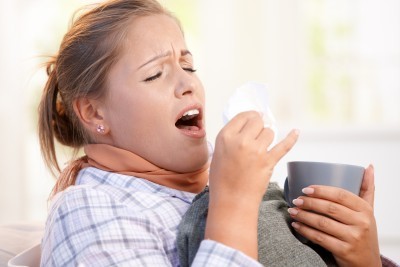 ANSWER:
You CAN have the swine flu with no fever.
More Info: According to the guidelines set by the Centers for Disease Control and Prevention regarding the H1N1 influenza virus or swine flu, it is possible to become infected with the said virus even if without a fever. There have also been several news articles that have reported of numerous patients diagnosed with the swine flu despite not having symptoms of a fever.
Symptoms of the H1N1 Influenza Virus/Swine Flu
According to the Centers for Disease Control and Prevention the symptoms of the H1N1 Influenza Virus, or the swine flu as it is commonly known, include fever, cough, sore throat, runny nose, body aches, chills, diarrhea, vomiting and fatigue.
However, these same guidelines also provide that some people may be infected and have only respiratory symptoms but no fever. A study presenting the clinical symptoms of the H1N1 swine flu virus also reports that mild illness without fever has been observed in eight to thirty-two percent of those infected with the H1N1 virus.
News Reports
When news of the H1N1 epidemic broke out, the public was warned of the common symptoms of the virus, such as fever, chills, diarrhea and vomiting. However, as the virus spread, news reports also came out saying that there were a number of those who were diagnosed as severely ill from the H1N1 virus, but did not have the tell-tale symptoms of fever. Because fever was reportedly "a hallmark of influenza", the absence of such made it difficult to determine exactly who were inflicted with the said virus. According to one doctor in Mexico City named Dr. Richard P. Wenzel, where the swine flu had spread, one third of the hospital patients who were examined for the swine flu infection did not have any fever.
REFERENCES:
"CDC H1N1 Flu | Questions and Answers: Antiviral Drugs, 2009-2010 Flu Season." Centers for Disease Control and Prevention. Web. 01 Nov. 2010. http://www.cdc.gov/h1n1flu/antiviral.htm.

ALTMAN, LAWRENCE K.. "Many Swine Flu Cases Have No Fever – NYTimes.com." The New York Times – Breaking News, World News & Multimedia. The New York Times, 13 May 2009. Web. 1 Nov. 2010. http://www.nytimes.com/2009/05/13/health/13fever.html?_r=1.

Adams, Jefferson. "Troubling sign: No Fever, Odd Symptoms in Many Swine Flu Cases ." San Francisco Examiner National News, National Information, National Events – Examiner.com | Examiner.com. The San Francisco Examiner, 13 May 2009. Web. 1 Nov. 2010. http://www.examiner.com/sf-in-san-francisco/troubling-sign-no-fever-odd-symptoms-many-swine-flu-cases.