Can You Stain Laminate Floors?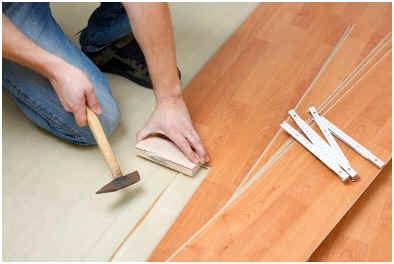 Staining laminate flooring is generally not recommended due to the special nature of the materials used in its construction. Certain characteristics of laminate flooring such as the materials used and the layering process make staining a difficult process unlikely to yield acceptable results.
Laminate Flooring Is Generally Sealed
Most laminate flooring receives its structure from a fiberboard and resin combination and its look from an appliqué layer housed under a protective clear coat. It is important to note that stain creates beautiful wood finishes by seeping into the wood pores and clinging by use of a mild resin (alkyd or latex). Because laminate flooring is sealed with a clear layer, the only method by which stain can color the appliqué layer underneath is by toning the clear layer. On woods that have been sealed with lacquers or varnishes, a toning effect can be pleasant. On laminate flooring, which is sealed by a thick clear layer to prevent damage from foot traffic, toning may appear blotchy and uneven.
Laminate Flooring Is Designed to Resist Staining
As stated before stain requires pores in which to stabilize and cling. Because most laminate flooring has a very high sheen those pores are often non-existent. In addition, because the clear coats are often constructed of non-permeable materials, stains cannot seep past the clear layer into the appliqué layer below. In the same manner that laminate flooring is designed to repel moisture such as spills, laminate flooring is designed to resist staining.
Possible Alternatives
Not all laminate flooring is created equal and yours may be able to be stained. If you do intend to stain your flooring, be certain to use a heavy-body or "gel" stain. Gel stains are thicker and will resist run-off on very smooth surfaces. They are used extensively to stain fiberglass wood simulations and will likely perform well on smooth laminate surfaces.
Resources
"Painting Over Plastic Laminate | Kitchen Cabinets | Kitchens | This Old House." Home Improvement and Remodeling: This Old House. N.p., n.d. Web. 17 Nov. 2011. <http://www.thisoldhouse.com/toh/asktoh/question/0,,380712,00.html>.
Brimo-Cox, Susan. "Wood Finishing, Gel Stains – PaintPRO." Paint PRO, Interior, Exterior Painting, Faux Painting-PaintPRO Magazine. N.p., n.d. Web. 17 Nov. 2011. <http://www.paintpro.net/Articles/PP601/PP601_GelStains.cfm>.
-2011, ©BuildDirect 2001. "What Are the Various Layers of Laminate Flooring and What Are They Made Of Article – BuildDirect Laminate Flooring Articles." Page Error. N.p., n.d. Web. 17 Nov. 2011. <http://www.builddirect.com/Laminate-Flooring/Laminate-Floors-Articles/What_Are_the_Various_Layers_of_Laminate_Flooring_and_What_Are_They_Made_Of.aspx>.
"Can I Put Wood Stain on My Laminate Floor? Home Improvement Questions." Home Improvement Experts. N.p., n.d. Web. 17 Nov. 2011. <http://www.myhomeimprovement.com/?page=prev_ques&qid=3356&m=74>.
Home Improvement Experts"Can I Put Wood Stain on My Laminate Floor? Home Improvement Questions"http://www.myhomeimprovement.com
BuildDirect"Are the Various Layers of Laminate Flooring and What Are They Made Of"http://www.builddirect.com
PaintPRO"Wood Finishing, Gel Stains"www.paintpro.com