Can You Tile Over Sheetrock?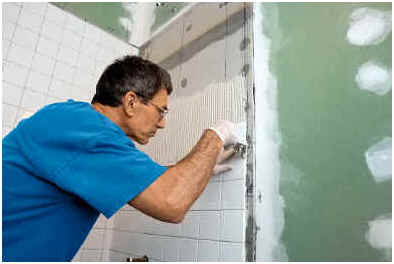 ANSWER:
You can tile over Sheetrock®.
More Info:  Though it is perfectly acceptable and meets most county building codes to tile over Sheetrock® in both dry and wet applications, its use as a tile backing should be reserved for dry areas.  Neither tile nor Sheetrock® is 100% waterproof, which means if Sheetrock® is used as a backing for tile in a wet area such as a tub surround or shower stall, water leakage or condensation build up behind the tile will ultimately occur, which will in turn begin to degrade the Sheetrock®.
Acceptable Tile Backing for Wet Applications
The best substrate for tile in a shower surround is a cement and mortar-mud application.  With this application, every tiny crevice of the wall can be covered creating a completely impermeable barrier.
If the mortar application is just not feasible, another alternative is cement backer board, which is concrete sandwiched between fiberglass mesh and cut into sheets.  It is not as resilient as a direct mortar wall application because the boards will have joints and there is a likely chance that the wall in which you are working is not 100% straight, which means more vulnerable areas for moisture to collect and condensate if not sealed properly.
What Conditions Constitute a Wet Area?
Choosing the right backing material to use in tile applications depends on the water conditions present.  To ensure the longevity of your construction project it is important to understand what constitutes wet and dry.  Here is a run-down from USG Corporation, the manufacturer of Sheetrock®
Dry: Any area that isn't expected to receive moisture, such as an interior wall in a bedroom.
Limited Water Exposure: Any area that are subject to moisture but are not in direct content with water and do not become soaked-this would include areas with high humidity, ceiling panels over tub and shower,  areas around the toilet.
Wet: Any area that is continuously exposed to water such as tub and shower surround, saunas, hot tubs, and indoor pool areas.
Resources
Ceramic tile setting. Blue Ridge Summit, Pennsylvania: Tab Books, 1992. Print.
"Interior Wall Selector, Moisture Resistant Walls, Mold Resistant Walls | USG Design Studio." Architectural Standards, Architectural Details, Architectural Specifications | USG Design Studio. N.p., n.d. Web. 1 Nov. 2011. <http://www.usgdesignstudio.com/performance-selector-interior-walls.asp>.