Cleaning Wood Decks with Bleach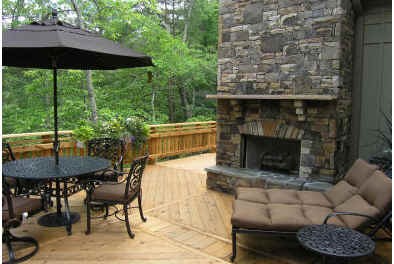 For years, homeowners have been cleaning their wooded decks with chlorine bleach. Not only is it a smelly and difficult job, it turns out that using chlorine bleach on your deck is extremely damaging and dangerous. Perhaps worst of all, it is not even effective at removing mold and mildew – which is the very thing many homeowners are trying to accomplish with this project.
Don't Use Chlorine Bleach
The corrosive effects of chlorine bleach on wood decks are cumulative and are more numerous than you might imagine. Not only does chlorine bleach break down wood fibers and alter the color of wood, it also corrodes metal fasteners – including the screws and nails holding your deck together. A University of Oregon Department of Wood Science study concluded that chlorine bleach doesn't kill mold on wood anyway. Combine the knowledge of chlorine bleach's ineffectiveness and corrosive characteristics with the fact that it is poisonous to plants (like the trees and flowers around your deck) and animals (like your pets and any wildlife that frequents your yard), and chlorine bleach quickly becomes a dangerous chemical to avoid when caring for your wood deck.
Oxygen Bleach is Safe and Effective
A safer and more effective alternative is oxygen bleach. Oxygen bleach contains sodium percarbonate which reacts with water to form hydrogen peroxide. Sodium percarbonate is non-toxic and biodegradable, and is an excellent cleaner and stain remover. You may already be using oxygen bleach in your laundry. Thanks to the recent popularity of using this product for various household tasks, many brands of oxygen bleach are widely available in a range of prices.
How to Use Oxygen Bleach to Clean a Wood Deck
After you've removed all furniture, plants, toys, and accessories from your deck, dissolve the oxygen bleach powder into warm water according to the product's instructions. Working in small sections (approximately 4 feet by 4 feet), pour this solution onto your deck and allow it to sit for about five minutes. Then use a brush to scrub the area thoroughly. Finally, rinse with clear water before moving on to the next section to be cleaned. Following these steps will leave you with a clean, bright deck which is ready to receive whatever sealer or paint you choose.
Resources
"Deck Cleaning / Use Oxygen Bleach – Avoid Damage." Ask the Builder – The Home Improvement Resource. N.p., n.d. Web. 31 Mar. 2010. http://www.askthebuilder.com/B378_Deck_Wood_Cleaning_Use_Oxygen_Bleach_-_Avoid_Damage.shtml.
"Focus on Forestry – College of Forestry, Oregon State University." Home page for the College of Forestry, Oregon State University. N.p., n.d. Web. 31 Mar. 2010. http://www.cof.orst.edu/service/alumni/focus_fall03/wse.htm.
"Routine Deck Maintenance – Deck, Deck, Porch & Patio." Home Improvement – DIY – Home Remodeling | BobVila.com. N.p., n.d. Web. 26 Aug. 2010. http://www.bobvila.com/HowTo_Library/Routine_Deck_Maintenance-Subject_Deck_Porch_and_Patio_Deck-A2719.html.