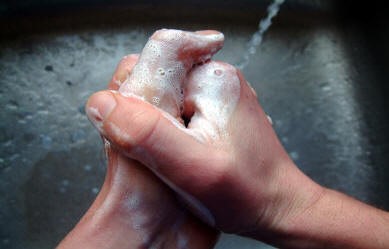 The common cold, although it does not cause any serious health damage, leads to missed days in school and at work. The flu meanwhile, is more alarming as it can lead to other complications depending on the kind of flu virus that is caught, such as the recent H1N1 pandemic that caused many deaths worldwide.  Taking the following steps are your first line of defense against common cold and flu viruses.
Frequent Handwashing
Instilling the habit of hand washing after touching dirty objects, public surfaces, coming into contact with sick people and restroom use must be emphasized in children and adults alike. Proper hand washing prevents the spread of the common cold and flu viruses, because human beings can get infected by the simple act of touching their eyes, noses and mouths.
It is important to note that frequent or repeated hand washing is needed, especially in places where there is a lot of exposure to respiratory viruses, such as in schools and offices, because washing only at the end of the day or after restroom use will have no effect in preventing the spread of the cold and flu viruses.
Wearing Face Masks
Wearing face masks, such as disposable surgical masks , that cover the mouth and nose areas, in public places within thirty-six hours after it is diagnosed that the influenza or flu virus is proliferation, will significantly reduce the transmission of the flu virus. As the common cold virus is transmitted the same way as the flu virus, wearing surgical masks when in the presence of those infected with the common cold will prevent its transmission to the wearer as well.
Distancing or Avoiding Contact With Infected People
Refraining from interacting with infected people or going to public places when the common cold or the flu virus is widespread will prevent the further transmission of the common cold and flu viruses. If contact with the public and or infected groups or individuals cannot be avoided, you must continue to wash your hands frequently and wear face masks.
REFERENCES:
Common Cold." PDRHealth | Prescription Drug Information and Health Information. Web. 31 Oct. 2010. http://www.pdrhealth.com/disease/disease%20mono.aspx?contentFileName=BHG01ID25.xml&contentName=Common Cold&contentId=30

Jefferson, Tom. "Physical Interventions to Interrupt or Reduce the Spread of Respiratory Viruses: Systematic Review." British Medical Journal 339 (2009). PubMed Central. 21 Sept. 2009. Web. 31 Oct. 2010. http://www.ncbi.nlm.nih.gov/pmc/articles/PMC2749164/?tool=pmcentrez.

"Why Is Hand Washing So Important?" KidsHealth. Web. 31 Oct. 2010. http://kidshealth.org/parent/general/sick/hand_washing.html?tracking=P_RelatedArticle.

"CDC – Seasonal Influenza (Flu) – CDC Says Take 3 Actions To Fight The Flu."Centers for Disease Control and Prevention. Web. 31 Oct. 2010. http://www.cdc.gov/flu/protect/preventing.htm.