How to Make a Cucumber Martini-Hendrick's Gin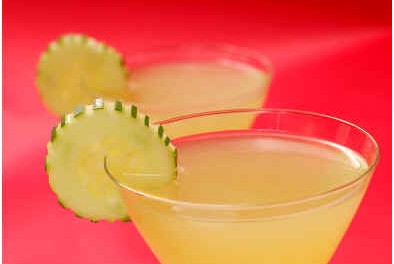 There are many cucumber martini recipes that adulterate the true classic martini with purees and sugars. This recipe is the standard classic with a refreshing cucumber taste.
If you prefer a gin martini, then you must try Hendrick's Gin. Hendrick's is infused with Bulgarian Rosa Damascena and specially selected cucumbers and is often used in fine restaurants and pubs that serve cucumber martinis. Here is Hendrick's Gin original recipe.
What Is In a Cucumber Martini?
2 ½ parts Hendrick's Gin
½ part dry vermouth
Cucumber slice
How to Make a Cucumber Martini
Stir Hendricks Gin and dry vermouth in a mixing glass with ice. Strain into a chilled martini glass. Finish with a cucumber garnish.
The cheesecake factory serves up a refreshing Hendricks Gin cucumber martini with the addition of yellow chartreuse, and orange, and a lime.
Variations
Grey Goose Spatini
2 parts Grey Goose Le citron flavored vodka
3 slices peeled cucumber
1 tsp sugar
2 sprigs fresh mint
1 part lemon juice
Directions: In a cocktail shaker combine 2 cucumber slices with mint and sugar and muddle well. Add the Grey Goose Le Citron flavored vodka and lemon juice and muddle well. Add ice and shake well until the outside of the shaker is frosted and beaded with sweat. Strain into the martini glass and float the cucumber slice on top.
Absolut Zakuski Martini
4 parts Absolut Citron
1 part lemon juice
1 part simple syrup
1 part triple sec
1 slice cucumber
Directions: Fill a shaker with ice cubes. Add all ingredients. Shake and strain into a chilled cocktail glass. Garnish with cucumber.
Resources
"Hendrick's Gin Cucumber Martini." Hendrick's Curiositorium. N.p., n.d. Web. 2 Mar. 2011. http://www.hendricksgin.com/#/us/treasury/martinis/cucumber_martini/.
"Cucumber Martini ." Welcome to The Cheesecake Factory. N.p., n.d. Web. 2 Mar. 2011. http://www.thecheesecakefactory.com/menu/Martinis/cucumber_martini.
"Grey Goose®." Grey Goose®. N.p., n.d. Web. 2 Mar. 2011. http://www.greygoose.com/#/us/en-us/cocktails/allcocktails/spatini/.