Cutting Roller Shades to Size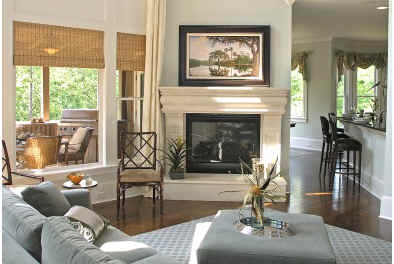 Roller shades come in two sizes making it difficult to find a shade that will fit properly without adjustment. Knowing the size of the window area that needs to be covered is essential. If the size that is needed is not available then it is imperative that the individual purchase an adjustable roller shade. An adjustable roller shade can be cut down to the desired length of the window area that it will be hung in.
Properly Measuring the Window Area
Get a tape measure and use it to find the width of the window between the mounting brackets. This will show the exact size the roller shade has to be and how much of the roller shade to cut. Take the measurement and mark on the roller shade with a marker the desired length. To better ensure a precise measurement is taken, roll up the roller shade and place the tape measure at the end of the shade plastic and measure toward the opposite side. Once that is done take a small piece of tape and secure the loose end of the roller shade so that doesn't become loose and unroll while the adjustments are being made.
Cutting the Roller Shade
Using a screwdriver, insert the tip just under the bracket on the end that will be removed. Carefully lift the screwdriver to pop off the plastic end. Next take a utility knife and at the place that was marked, cut a small section of the roller shade. This cut should be at the bottom of the roller shade so unrolling the shade will be easy. Take a hold of the side beyond where the measurement was made and pull it around the shade. The roller shade comes with a self-sizing feature allowing the individual to unroll the shade without creating a crooked line. Completely unroll the roller shade until the center bar is showing, then completely tear off the excess shade from the center bar.
Cut a ring around the center bar. Press the side of the blade against the edge of the shade to create that straight line. Peel the cardboard away from the center bar. A metal tube will be exposed and can be pushed back inside the tubing with the palm. Replace the bracket at the end of the roller shade that was taken off in the beginning. If need be tap it on a hard surface until it is secure and in place. The roller shade is now ready to be hung.
Resources
"Roller Shade Repair | Danny Lipford." DIY Home Improvement | How to Videos and Articles | Danny Lipford. N.p., n.d. Web. 14 Dec. 2010. http://www.dannylipford.com/video/roller-shade-repair/.
"Fix Spring Roller Shades." Blinds, Window Blinds, Faux Wood and Natural Wood Blinds, Roman Shades and Window Shades. Free samples available. .. N.p., n.d. Web. 14 Dec. 2010. http://www.selectblinds.com/newsletter/13.htm.