Do Detox Body Wraps Work?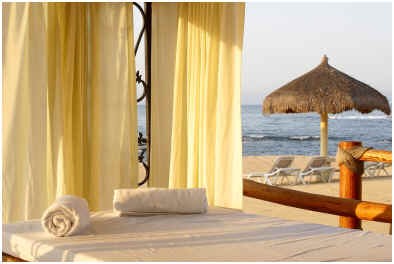 The claims surrounding detox body wraps are rather extraordinary. Supporters promote them for everything from increasing metabolic activity to boosting immune function. Before you subject yourself to the sometimes-uncomfortable process or spend your hard cash, you should take a closer look.
What Is a Detox Body Wrap?
The process of a wrap often begins with an exfoliating procedure meant to prepare the skin to receive the substances in the wrap. A shower often follows exfoliation, if the salon has shower facilities, to cleanse the skin and open the pores so that the elements in the wrap can insinuate themselves even more deeply into the skin. After the shower, the ace bandage-like wraps that have been soaked in the materials that are supposed to promote detoxification are applied to the body, typically around the torso, legs, arms and neck. The face is generally only wrapped if the point of the wrap is wrinkle reduction or skin tightening. After the wraps are applied, the client is usually covered with a towel for warmth.
The Results
The substances that detox wraps are dipped in before they are applied to the body are typically made from algae, seaweed, mud, and clay. There is no evidence that surface application of any of these materials promotes detoxification of the system in any way. In fact, most medical experts believe that detox procedures such as wraps or liquid diets are unnecessary because the human body already has two organs dedicated to removing toxins from the body: the liver and the kidneys.
Some Warnings
Claustrophobia can occur during a body wrap. If you are in distress, your symptoms may abate if you ask someone to sit with you for the duration of your wrap. Your skin is capable of absorbing small amounts of materials that are placed on it. You may want to investigate what, exactly, is in your detox body wrap. Some wraps contain aluminum, which some experts believe could contribute to dementia. Wraps can also contain ingredients that may cause allergic reactions in some people. Apply a sample of the wrap you plan to do to a small patch of your skin 48 hours before your wrap is scheduled. If your skin does not react, you can probably do the wrap safely.
Resources
"Body Wraps." Plastic Surgery – Consumer Guide to Plastic and Cosmetic Surgery. N.p., n.d. Web. 5 Apr. 2010. http://www.yourplasticsurgeryguide.com/day-spas/body-wraps.htm.
"Do Body Wraps Really Work? Bodywraps FAQs." Holistic Wellbeing and Quantum Energy Healing. N.p., n.d. Web. 5 Apr. 2010. http://www.askahealer.com/bodywraps.html.
"Health | The rap on body wraps | Seattle Times Newspaper." The Seattle Times | Seattle Times Newspaper. N.p., n.d. Web. 5 Apr. 2010. http://seattletimes.nwsource.com/html/living/2004101585_bodywraps020.html.
"Hollywood Detox Body Wrap Review | How It works, Pros/Cons, In-Depth Reviews." Diet Reviews | Reviews of weight loss programs, diet pills and fitness plans.. N.p., n.d. Web. 5 Apr. 2010. http://www.dietspotlight.com/hollywood-detox-body-wrap-review/.
"Herbal Body Wraps Recipes." Free Healthy Recipes! Nutrition, Weight Loss Topics And Free Cook Books. N.p., n.d. Web. 5 Apr. 2010. http://www.healthrecipes.com/body_wraps.htm.
subs5678. "Body Wraps: Way To Look, Feel Slimmer? – The Early Show – CBS News." Breaking News Headlines: Business, Entertainment & World News – CBS News. N.p., n.d. Web. 5 Apr. 2010. http://www.cbsnews.com/stories/2007/11/15/earlyshow/series/weapons_of_mass_reduction