Do Weight Loss Body Wraps Work?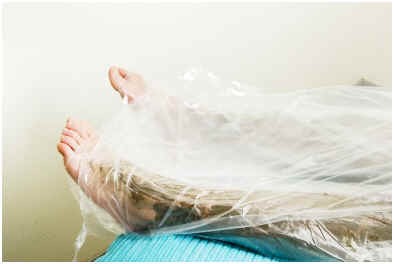 ANSWER:
For long-term weight loss, body wraps for weight loss do NOT work.
More Info: In the short-term, body wraps can cause weight loss through water loss.  You will regain the weight once you rehydrate.
Weight loss body wraps have become increasingly popular in recent years as everyone from Hollywood stars to the soccer mom who lives down your block has raved about the rapid decrease in weight and inches they've experienced after a wrap. But, before you spend your hard-earned money on a wrap, perhaps you should take a closer look at them.
The Claims
Salons that offer wraps and manufacturers that make home wrap kits claim that weight loss wraps work by flushing your system of toxins and stimulating your metabolism.
The Process
Most body wraps begin with an exfoliation procedure that's supposed to allow the substances contained in the wraps to penetrate more deeply into your body. Afterwards, you're often asked to take a shower to cleanse your skin and open your pores to encourage even deeper penetration of the elements contained in the wrap. After your shower, ace bandage-like wraps that have been dipped in substances that are supposed to promote your weight loss are tightly wound around your body. After the wrapping process, most salons will ask customers seeking weight loss to don a heat-retaining plastic suit. Most salons claim the suit is to help keep you warm, but it also accelerates water loss through perspiration. At this point, some salons will ask you to exercise on a treadmill or elliptical machine during your wrap. Salons usually claim that the exercise helps draw the detoxifying elements deeper into your body, but in reality, it just serves to further accelerate weight loss through water loss.
The Outcome
Most people do see real reductions in their weight and body measurements after weight loss body wraps, and if you're looking for a quick fix weight loss tool so that you can look good at a specific even, and you're willing to undergo the sometimes uncomfortable procedure, a weight loss body wrap may serve your purposes. But, if you're looking for long-term weight loss, body wraps aren't going to help you. There is no evidence that they cause actual tissue, either muscle or fat, reduction rather than water loss. You can expect to regain all the pounds and inches you lost as soon as you re-hydrate.
Proceed with Caution
Doctors warn that it's possible to become overheated during weight loss wraps, especially if you're asked to exercise. Weight loss wraps can also cause dangerous levels of dehydration.
Resources
"Body Wraps." Plastic Surgery – Consumer Guide to Plastic and Cosmetic Surgery. N.p., n.d. Web. 5 Apr. 2010. http://www.yourplasticsurgeryguide.com/day-spas/body-wraps.htm.
"Health | The rap on body wraps | Seattle Times Newspaper." The Seattle Times | Seattle Times Newspaper. N.p., n.d. Web. 5 Apr. 2010. http://seattletimes.nwsource.com/html/living/2004101585_bodywraps020.html.
"Hollywood Detox Body Wrap Review | How It works, Pros/Cons, In-Depth Reviews." Diet Reviews | Reviews of weight loss programs, diet pills and fitness plans.. N.p., n.d. Web. 5 Apr. 2010. http://www.dietspotlight.com/hollywood-detox-body-wrap-review/.
"Herbal Body Wraps Recipes." Free Healthy Recipes! Nutrition, Weight Loss Topics And Free Cook Books. N.p., n.d. Web. 5 Apr. 2010. http://www.healthrecipes.com/body_wraps.htm.
subs5678. "Body Wraps: Way To Look, Feel Slimmer? – The Early Show – CBS News." Breaking News Headlines: Business, Entertainment & World News – CBS News. N.p., n.d. Web. 5 Apr. 2010. http://www.cbsnews.com/stories/2007/11/15/earlyshow/series/weapons_of_mass_reduction