Does a Hysterectomy Cause Hair Loss?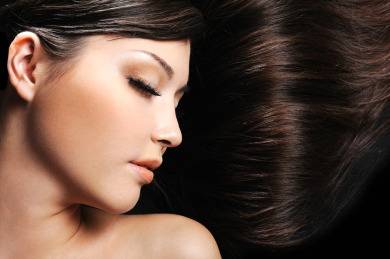 When polled, a quarter of the women who had undergone a full hysterectomy reported some form of loss of scalp hair.(1) So this post-op symptom is definitely a genuine risk. And it's not just blatant hair loss that hysterectomy patients have to worry about. A quarter of this same group of women also reported a decrease in the thickness of their hair, in itself another sign of possible hair loss.
Among the other findings of this extensive survey were pubic hair loss (20.8%), a decrease in body hair (12.2%), and loss of facial hair (1.4%). There were slight variations to some of the hair statistics, depending on whether none, one, or two ovaries were removed. But overall, the upper end risk to women for this particular symptom falls in the one-in-four range.
First Signs
For many women, the first sign of hair loss after a hysterectomy is noted while taking a shower.(2) After the water is tapped back down and turned off, women notice an increase in the amount of hair resting in the drain covering area.
Hair loss after hysterectomy is often temporary, with the problem dissipating as the new hormone levels in the body gradually adjust to new thresholds of permanence. Still, it can be a very disconcerting experience, moving women to tears. One woman who experienced the problem did not find it starting until about six weeks after the operation, but once it did, the hair loss lasted for two months and was very dramatic.
Transdermial Estradol
Complicating hair loss matters after a hysterectomy is the fact that one of the most commonly prescribed medications to treat hot flashes and other most common post-op problems has as a potential side effect of hair loss.(3) This medication is marketed under a half dozen different brand names including Alora, Estraderm, and Vivelle. It is usually administered in the form of a patch.
Resources
(1) HERS Foundation – Adverse Effects, Retrieved July 21, 2011 from http://www.hersfoundation.com/effects.html
(2) MedHelp.org – Hysterectomy Community: Hair Loss After Hysterectomy, Retrieved July 21, 2011 from http://www.medhelp.org/posts/Hysterectomy/Hair-loss-after-hysterectomy/show/423838
(3) National Institute of Health – Transdermial Estradol, Retrieved July 21 from http://www.ncbi.nlm.nih.gov/pubmedhealth/PMH0000325/#a605042-why