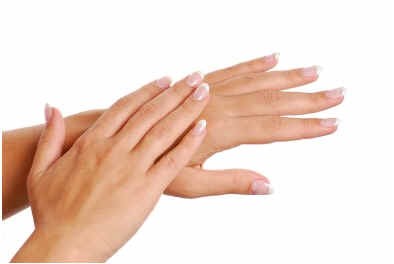 ANSWER:
Concrete DOES burn skin.
It is the cement in concrete that can cause serious skin burns.
An average of 71% of all serious cement burns occur on the jobsite. But many do-it-yourself homeowners are seriously injured every year as well. In fact, homeowners may be at an increased risk of serious cement burn injury due to their ignorance about the chemical composition and dangers of cement, lack of suitable protective equipment, and lack of emergency medical protocols.
Are Cement Burns Serious?
The severity of a cement burn can range from mild skin irritation to disfigurement. Unfortunately, the effects of a cement burn are insidious; so many times the victim does not take the cement's contact with the skin seriously. Because cement is wet, when it hits clothing it generally seeps through onto the skin. After a few minutes, the victim may experience a slight but mild burning sensation, which often goes ignored. If the cement is not immediately washed off and the clothes removed, the cement will continue to desiccate the skin causing serious necrosis-many times going unnoticed by the victim. It is possible that the necrosis can continue to the bone causing permanent disfigurement.
OSHA Takes Cement Burns Seriously
OSHA has indicated Portland cement as a potential skin irritant for those working with it. OSHA regulations require that employers must provide workers with protective equipment, provide washing stations, and must make employees aware of possible dangers when working with the material.
How to Protect Yourself from Concrete Burns
When working with cement it is imperative that you wear protective clothing that obstructs cement from touching the skin.
Protective gloves: Tight fitting, butyl or nitrile gloves are recommended when working with cement. Wear a long-sleeve shirt and duct-tape the sleeve to your gloves to prevent cement from slipping into the glove.
Protective boots: Wear high, waterproof boots, tuck your pants on the inside of the boots, and duct tape around the top of the boot.
Protective eyewear: A cement splash in the eye is a serious issue. Always protect your eyes with safety glasses that are designed for this use.
Kneepads: Most often, the process of finishing cement is done on the knees increasing your chance of cement contact through your pants. Use kneepads or dry kneeboards to prevent contact.
Resources
"Preventing Skin Problems from Working with Portland Cement." Occupational Safety and Health Administration – Home. N.p., n.d. Web. 7 Nov. 2011. .
Alam, FRCSI, FRCS (Ed), FCPS (Plast), Munir, M. Moynagh, MB,BAO, BCh, MRCS, D. S. Orr, FRCSI, FRCSI (Plast), and C. Lawlor, BSc, MD, FRCS(C). "Cement Burns: The Dublin National Burns Unit Experience." Journal Of Burns and Wounds 7.4 (2007): 0. Print.