Does Wet Sheetrock Need to Be Replaced?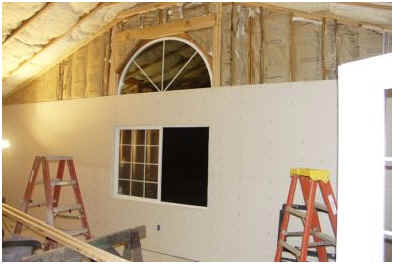 Sheetrock is known for being durable, but it is important to take care of it when it gets wet. Wet drywall can easily develop mold that does not go away. Once sheetrock gets wet, it is important to remove the source of the dampness or moisture and let it dry out. After this is done, it may be possible to determine whether it needs to be repaired or replaced.
When to Repair Wet Sheetrock
Many home repair specialists indicate that if the leak is small and was caught before damage could be done, it may be possible to repair the sheetrock. It is important that not only the sheetrock dry thoroughly but the insulation behind it also dry thoroughly, because the insulation could hold moisture against the drywall and lead to the growth of mold. Any tape that is affected by the moisture should be replaced, and any water stains that are present on the sheetrock should be primed and painted over. It is important to thoroughly check all over for the presence of mold.
When to Replace Wet Sheetrock
If mold is detected or if the wet sheetrock is sagging, it is important to replace it. At this point its structural integrity has been weakened, and there is no way to restore it. In this situation, it is important to take out all of the screws in the sheetrock and cut out the damaged portion of the material. The measurements of the damaged area should be measured so that a replacement piece can be cut. Once this piece is cut, it should be set into the wall using screws. To seal the seams of the drywall, use mud tape and sheetrock mud. To smooth the sheetrock mud, sand the area with fine grit sandpaper and a sander. Once the area is dried and sanded, the area can be painted.
Resources
"Drywall Repair." Ask the Builder – The Home Improvement Resource. N.p., n.d. Web. 4 Nov. 2010. http://www.askthebuilder.com/702_Drywall_Repair.shtml.
"TIPS FOR DRYING OUT A WATER-DAMAGED BUILDING." North Carolina State Historic Preservation Office Home Page. N.p., n.d. Web. 4 Nov. 2010. http://www.hpo.ncdcr.gov/dryout.htm.