Essential Oils for Hair Growth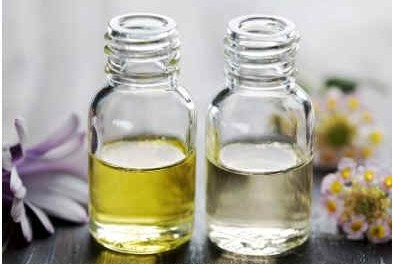 Numerous people use essential oils for hair growth. Scientific studies have proven that some essential oils are effective treatments for certain types of hair loss, such as alopecia areata.
Scalp Treatments
Here are a few popular treatments:
Combine 15 drops jojoba oil, 8 drops carrot oil, 7 drops each of rosemary and lavender oils, and 2 drops tea tree oil with 100 ml of a mild, natural shampoo. Use the shampoo as you normally would. The shampoo should not contain any type of harsh chemicals, and should be unscented.
Combine 2 ml (40 drops) of jojoba oil, 8 drops evening primrose oil, and 2 drops each of geranium oil and palma rosa. Apply to your hair once a week, massaging it into the scalp, and leave standing for a minimum of thirty minutes. Then apply a mild, natural shampoo to the hair before wetting it, and wash the mixture off.
Combine 50 ml each of rosewater and distilled water. Add in 15 ml apple cider vinegar, 6 drops of jojoba, 5 drops of rosemary, and 3 drops each of carrot and geranium oils. Mix well. Use in the morning, after you have washed and partly dried your hair. Simply apply approximately two teaspoons of the mixture to your scalp and gently massage it in. Note that the mixture needs refrigeration between uses.
Combine 4 drops each of geranium, lavender, and cypress oils with 3 drops rosemary, 1 drop frankincense, and 2 drops each of cinnamon and juniper oils. Before going to bed, apply 1 drop of this mixture on one of your fingers, and then rub all your fingertips together. Then very gently massage your scalp, using your fingertips. Note that this blend has to be applied on a daily basis, without missing any days.
Combine rosemary, lavender, atlas cedarwood, thyme, jojoba, and grapeseed oils and gently massage the mixture into your scalp for two minutes every night. You can also use a blend of rosemary, lemongrass, and sesame oil.
Precautions:
Carefully wash your hands after handling any essential oil
Stop using any treatments if any problems develop
Consult a physician or pharmacist before using essential oils if taking medications or dietary supplements.
Resources
"Can Essential Oils Reverse Hair Loss?." Flora Medica. N.p., n.d. Web. 26 July 2010. www.floramedica.com/hairloss.pdf.
"Aromatherapy Center." Massage Today provides massage & spa therapy news, research & info for alternative health professionals. N.p., n.d. Web. 26 July 2010. http://www.massagetoday.com/topics/aromatherapy.php.
"Lavender." University of Maryland Medical Center. N.p., n.d. Web. 26 July 2010. http://www.umm.edu/altmed/articles/lavender-000260.htm.
"A Quick Guide to Herbal Supplements." National Center for Complementary and Alternative Medicine. U.S. Department of Health, n.d. Web. 26 July 2010. <nccam.nih.gov/health/NIH_Herbs_at_a_Glance.pdf>.