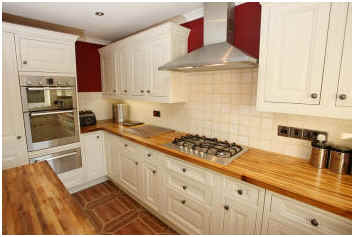 Tiles are the most common material for a backsplash, but instead of going through the expense of purchasing tile, try creating your own faux tile backsplash. Backsplashes are tiles installed onto a wall behind a sink or counter such as a kitchen or bathroom. Backsplashes protect your wall from water spots or cooking grease and adds style. When creating your faux tile backsplash, you provide the look of tile with drywall compound, primer, and paint that cleans easily and protects your walls.
Preparing Your Wall
Materials needed to create your faux tile backsplash are drywall mud or compound, trowel, 1/8-inch wide painter's tape, 2″ wide painter's tape, level, yardstick and your paint. Use interior latex primer and latex paint for your grout lines and color for your faux tile.
Prepare your wall by thoroughly cleaning the surface with soap and water to remove any dirt and grime. Draw a plan for your backsplash on a piece of paper defining your outer edges, faux grout lines, and then using a level, ruler, or yardstick, measure your wall and transfer your design onto the surface, according DIY Kitchen Tile Backsplash-Go Faux.
Taping and Painting
If you want your outer edges defined on your backsplash, apply the wide painter's tape to your outer edges of your wall. Paint the entire wall surface in a color you want for your grout lines.
An alternative method to define your grout lines is to apply your 1/8-inch tape in a grid format before painting, according to Create Your Own Kitchen Backsplash. Use your drywall mud and apply a thin and smooth layer over your grid area with a small trowel. Be careful when applying near your tape. Carefully remove your tape before the mud dries.
Using a sponge or a small paintbrush, paint your tiles. If you have an artistic nature, use stencils to add fruit or other designs, such as flowers or foliage.
Adding Texture
Add texture by using a sponge or cloth to paint your faux tiles. Create a marbled effect by using a glaze on your tiles and using a stencil or drawing free hand, add a few veins throughout your backsplash faux tiles.
Protect your backsplash by covering the entire area with a polyurethane finish.
Resources
"How to Paint a Faux Tile Backsplash : How-To : DIY Network." DIY Network – Home Improvement How-To & Projects : DIY Network. N.p., n.d. Web. 25 Aug. 2010. http://www.diynetwork.com/how-to/how-to-paint-a-faux-tile-backsplash/index.html.
"Faux Tera Cotta Tile – Do It Yourself Repair Forum #249035 – BobVila.com." Home Improvement – DIY – Home Remodeling | BobVila.com. N.p., n.d. Web. 25 Aug. 2010. <http://www.bobvila.com/wwwboard
"How to Paint Tile Backsplash and Stenciling : Decorating : Home & Garden Television." HGTV – Decorating, Outdoor Rooms, Landscaping Ideas, Kitchen and Bathroom Design : Home & Garden Television. N.p., n.d. Web. 25 Aug. 2010. <http://www.hgtv.com/decorating/how-to-paint-tile-backsplash-and-