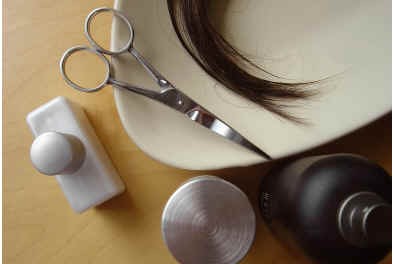 If you use the right hair coloring techniques, changing your hair color, whether you just go for soft highlights or opt for a dramatic full-head permanent dye job, can be the quickest most effective way of enhancing your natural beauty.
Covering Your Gray
If you have gray hair that you'd like to cover in order to maintain a more youthful look, you have a few options. If you are less than 40 percent gray, you can go with a semi-permanent synthetic hair dye or a natural vegetable dye. If you're more than 40 percent gray, you're best off with a permanent synthetic hair dye that can penetrate the tight cuticle of your color-resistant gray hair. Unless you've dyed your hair in the past, stick to a color within a few shades of you natural hair color.
Transforming Your Color
These days, if you're willing to use a permanent synthetic hair dye, you can achieve almost any color hair no matter what your natural color is. Your natural skin and eye color should be the only things guiding your hands. If you have a warm skin tone accented by golden or red undertones, stick with warm hair colors with copper tones. If your skin tone is accented by cool pink or bluish undertones, stay with cooler hair tones full of hazels and beiges.
Natural Hair Dyes
If you're unwilling to use synthetic hair dyes for health or environmental reasons, you can try natural hair dyes made from vegetables. Henna can be used to create warm reds, auburns, and browns. The chamomile and rhubarb plants can be used to lighted blonde or light brown hair, and applying lemon to your hair and then sitting in the sun can naturally lighten any hair color.
Highlights
If you're unwilling to commit to dying all your hair, but you want to spice up your look, consider highlights. The color of your highlights will be determined by your skin tone the same way whole head dye jobs are, but the placement of the highlights will be based on your face shape. With the proper highlights you can emphasize your favorite facial features while downplaying the rest.
Resources
"Hair Dyes and Relaxers" US Food and Drug Administration N.p., n.d. Web. 1 Apr. 2010.<http://www.fda.gov/forconsumers/byaudience/forwomen/ucm118527.htm>
"Best At Home Hair Color" Good Housekeeping Web. 1 Apr. 2010 <http://www.goodhousekeeping.com/product-testing/reviews-tests/health-beauty/best-home-hair-color>
Chao, Ning. "Step by Step Tips for Flawless at Home Color." Marie Claire. N.p., n.d. Web. 1 Apr. 2010. www.marieclaire.com/hair-beauty/trends/articles/at-home-hair-color?click=main_sr.
Monsma, Genevieve. "Find Your Best Hair Color." Marie Claire. N.p., n.d. Web. 1 Apr. 2010. www.marieclaire.com/hair-beauty/trends/articles/best-hair-color.