Home Remedies to Lighten Hair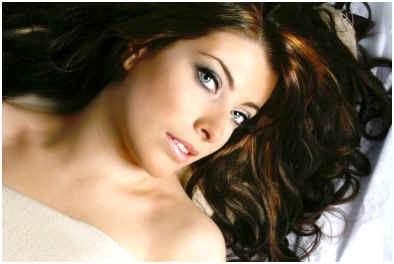 Some people swear that a chamomile treatment can lighten naturally blonde hair by smoothing the cuticle. To try a chamomile hair treatment, steep half a cup of chamomile flowers in half a cup of boiling water for thirty minutes. Strain the mixture and let it cool. Apply it to clean dry hair and let it absorb for 15 minutes. Rinse your hair with water. You may repeat the process as many times as you want to achieve the desired shade.
Rhubarb
If you have light brown hair that you would like to lighten to honey blonde, you can try a rhubarb treatment. Cut the rhubarb into small pieces and then simmer it in four cups of water for one hour. Strain the liquid and let it cool. Apply the liquid to clean wet conditioned hair. You may repeat the process by catching the liquid in a bowl as it comes off your hair and then reapplying.
Honey
Honey naturally contains hydrogen peroxide. Mix three quarters of a cup of honey with one twelfth of a cup of your regular hair conditioner. Apply the mixture to your hair and then wrap your hair in a towel and let it absorb for eight hours.
Lemon Juice
There are several different methods of using lemon juice to lighten your hair. You can try applying a mixture of three parts lemon juice to one part water with a spray bottle and then sitting in the sun. If your hair is naturally dry or damaged from coloring or styling, add a teaspoon of olive oil to the mixture. If you want to heighten the effects of the lemon method, you can use a mixture of equal parts lemon juice and chamomile tea. Make sure to wash and condition your hair after using any of the lemon methods.
Sunlight
The sun may darken your skin, but it lightens your hair. For a mild boost to naturally blonde hair, sit outside with your hair exposed to the sun, but you skin covered.
Resources
"Hair Dye and Hair Relaxers." U S Food and Drug Administration Home Page. N.p., n.d. Web. 28 Aug. 2010. http://www.fda.gov/ForConsumers/ByAudience/ForWomen/ucm118527.htm.
Shafer, Dr. Aaron. "Understanding Genetics: Human Health and the Genome." The Tech Museum. Stanford School of Medicine, n.d. Web. 28 Aug. 2010. http://www.thetech.org/genetics/ask.php?id=180.
"Cosmetology I: History of Hair Color." Career and Technical Education. N.p., n.d. Web. 27 Aug. 2010. <www.cte.unt.edu/Human/curriculum/history/history_all.pdf>.