How Do You Disinfect Granite Countertops?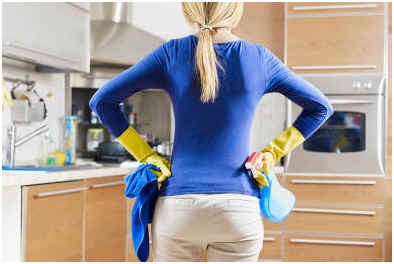 ANSWER:
Granite countertops can be disinfected using a solution of bleach diluted with warm water.

More Info: Various types of granite have differing levels of porosity. When properly sealed and maintained, a granite surface should not absorb any liquid substances. To ensure that germs and bacteria are eliminated, a simple solution of bleach and water will do the trick.
The best course of action for keeping granite countertops disinfected is to wipe up spills immediately. Granite should be wiped down daily with warm, wet cloth and then thoroughly dried. A pH balanced dishwashing soap is fine for daily cleaning as well. Be sure to rinse the soap off well to avoid a streaky or hazy look.
As granite countertops grow in popularity, companies are beginning to manufacture cleaning supplies that are suitable for use on granite surfaces. Disinfectant cleaners are now available that are made especially for granite.
Various theories exist as to whether or not acidic substances like vinegar and lemon juice should be used to disinfect granite. Though granite is highly acid resistant, over time, constant exposure to acidic substances may compromise the integrity of the sealer. A mixture that includes hydrogen peroxide has been suggested but this is more commonly used for stain removal rather than disinfecting.
Regardless of the type of disinfectant used, granite countertops should be sealed about once a year to ensure that the granite is not absorbing any substances. Keeping the countertops clean on a daily basis using soap and warm water is both safe and effective.
Resources
Delaney, Kim. Knack Clean Home, Green Home: The Complete Illustrated Guide to Eco-Friendly Homekeeping (Knack: Make It easy). -: Knack, 2008. Print.