How Do You Shorten Venetian Blinds?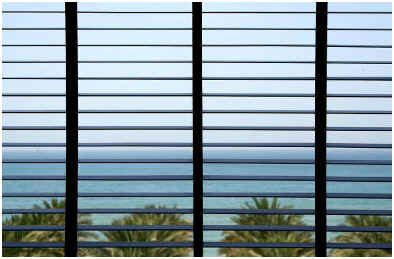 The method to shorten venetian blinds is relatively simple and requires only a level and pair of scissors.  The final length must be longer than the window you are covering so it is crucial that measure twice can cut once.
Hang Your Blinds
The first step to a proper adjustment is hanging the blinds. Expand the blinds to the maximum length. This will allow you to see how many slats to remove. You will want the bottom rail to graze the windowsill.
Disassemble the Blind
After expanding the blinds, mark the desired length. A good way to do this is to put a notation on the slat below the new bottom slat. Turn the bottom rail of the blind over and remove the cord retainer buttons. While the blind is still at the maximum length, remove the bottom rail and slats to the desired length. Do not pull the cord that raises/lowers the blinds. This will pull the strings out of the slats.
Alter the Length
Now that you have removed the unwanted slats, cut the excess string brackets and the drawstring leaving enough to put the bottom rail back on. You may want to mark the strings where the knots should be so you are sure the bottom of the blind is level.
Re-assemble the Blind
Once you have the length adjusted, pull the drawstring and the slat strings through the holes in the bottom rail. Tie your knots where you marked the strings. The marks will not be visible. Push all the excess slat string into the bottom bracket. Replace the cord retainer buttons.
Final Adjustments
The drawstrings may require a final adjustment once you reassemble the blind. You can shorten these by pushing the cord tassels to expose the knot. Again, mark the length you want. Cut the cord and tie the knot at the marking. Do this to all the drawstrings so they are even. This will ensure the blind raises evenly. Be sure to save a few slats for future repairs.
Resources
"JustBlinds.com – How To Shorten Blinds." Discount Faux & Wood Window Blinds, Window Shades, Mini Vertical Blinds. N.p., n.d. Web. 10 Jan. 2011. http://www.justblinds.com/static/shortening.cfm.
"Levolor Corded Wood Blind Shortening Instructions." Levolor Blinds. N.p., n.d. Web. 7 Jan. 2011. www.levolor.com/support/install/files/TrimGoCordedWoodShorteningInstructions.pdf.