How Does a Body Wrap Work?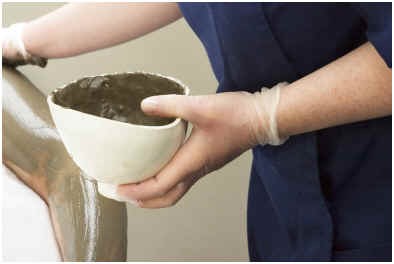 How does a body wrap work? The answer depends on what kind of body wrap you're talking about and what, specifically, it's supposed to target.
Weight Loss Body Wraps
Although salons and home body wrap advertisers will say that weight loss body wraps promote fat reduction by drawing toxins out of your body through your skin, medical experts disagree. Weight loss body wraps can promote rapid, although all-too temporary, weight loss, but it's done entirely by eliminating water, not toxins, from the body. Clients who request weight loss body wraps are first wrapped in ace bandage-like cloths that have been pretreated in the solution that's supposed to remove toxins from the body, and then they are asked to put on a heat-retaining plastic outfit, which promotes water loss by increasing perspiration. Finally, some salons even ask clients to exercise on treadmills or elliptical machines during their wrap, further promoting water loss through perspiration. Weight loss can be dramatic, but it's entirely temporary, and will disappear as you hydrate. Experts warn that weight loss wraps can cause dangerous levels of dehydration.
Detoxification Body Wraps
Detoxification wraps are quite similar to weight loss wraps, except that you are not asked to wear a heat retention suit or exercise during the wrap, as weight loss isn't the primary goal. The wraps are soaked in substances, usually algae, seaweed, mud, or clay, that are supposed to draw toxins out of your body through your skin, promoting health, improving the look of skin, and even boosting immune function. There is no evidence that wraps perform any of these functions, and the body has two organs, the liver and the kidneys, devoted entirely to removing toxins from the system.
Hydrating Body Wraps
Hydrating body wraps are almost exactly like detoxification body wraps, except that the substances the wraps are treated with are supposed to promote improved skin texture and hydration rather than detoxification. The wraps are most often treated with shea butter or other rich skin creams before they are applied to the body. Hydration wraps actually do work to temporarily hydrate the skin, but the basic principle is exactly the same as regularly applying lotion after a shower. The results are temporary.
Resources
"Body Wraps." Plastic Surgery – Consumer Guide to Plastic and Cosmetic Surgery. N.p., n.d. Web. 5 Apr. 2010. http://www.yourplasticsurgeryguide.com/day-spas/body-wraps.htm.
"Do Body Wraps Really Work? Bodywraps FAQs." Holistic Wellbeing and Quantum Energy Healing. N.p., n.d. Web. 5 Apr. 2010. http://www.askahealer.com/bodywraps.html.
"Health | The rap on body wraps | Seattle Times Newspaper." The Seattle Times | Seattle Times Newspaper. N.p., n.d. Web. 5 Apr. 2010. http://seattletimes.nwsource.com/html/living/2004101585_bodywraps020.html.