How Long Does Henna Last?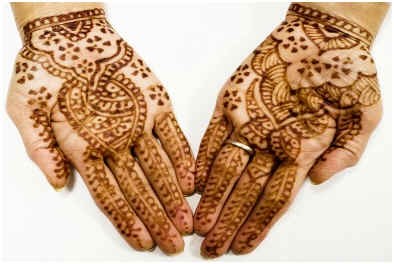 Henna stains can last a few days to a month or more depending on a variety of factors including the quality of the dye, the length of processing, condition and maintenance of the hair etc. ( Ibn Qayyim al-Jawzīyah et. al.,)
What Is Henna Made Of?
Natural henna is derived from crushing henna leaves to extract the lawsone, the burgandy pigment that gives henna leaves their color.   Because a each henna leaf is comprised of roughly 1-3% lawsone, the crushed leaves must be sifted to separate the rough plant material from the actual dye.  Henna that is used for body art is generally more vigorously sifted resulting in a higher dye concentration. (Bosoglu, 83)
What Is In Compound Henna?
Natural henna is burgundy so the henna that is used for hair is often combined with other chemical and natural dyes to create shades more palatable to consumers.  For example, a product sold as black henna could be derived from indigo as well as a variety of additives.  Henna with additional ingredients is referred to as compound henna.  (Singh et. al., 13)
Compound Henna Can Be Life Threatening
Compound henna has been found to contain Silver nitrate, Carmine, Pyrogallol, disperse orange dye, and Chromium, all of which can cause serious health risks. (FDA, fda.gov) (Kang, 26)
Black henna can contain a chemical known as p-phenylenediamine (PPD).  The FDA prohibits the addition of PPD to henna in the United States because it can cause severe allergic reactions and permanent scarring occurring in roughly 3-15% of those who come in contact with it.  Henna boosted with PPD can cause lifelong health problems and can also cause a life-threatening sensitivity to the use of any synthetic hair dye. (Hema, 48)
Resources
[1] Ibn Qayyim al-Jawzīyah, Muhammad ibn Abī Bakr, Penelope Johnstone. Cambridge: Islamic Texts Society, Medicine of the prophet. Trans, 1998
[2] Bosoglu A, Birdane F, Solmaz H, "The effect of Henna (Folium lawsoniae) paste in ringworm in calves". Indian Veterinary Journal 75 (1), 1998, 83–84
[3] Singh, M., Jindal, S. K., & Singh, D., "Natural Variability, Propagation, Phenology and Reproductive Biology of Henna", Henna: Cultivation, Improvement, and Trade. Jodhpur: Central Arid Zone Research Institute, 2005, 13–18
[4]  "Temporary Tattoos & Henna/Mehndi", Food and Drug Administration, 18 September 2006, http://www.fda.gov/Cosmetics/ProductandIngredientSafety/ProductInformation/ucm108569.htm, Retrieved 3 August 2009.
[5] Kang IJ, Lee MH, "Quantification of para-phenylenediamine and heavy metals in henna dye". Contact Dermatitis 55 (1), 2006, 26–9
[6] Hema, R, S Gomathi , C Sivasubramaniam, and S Kumaravel. "Gas Chromatography – Mass Spectroscopic analysis of Lawsonia inermis Leaves." Life Science Journal 7.4 (2010): 48-50. Print.