How Long Does It Take Corn to Grow?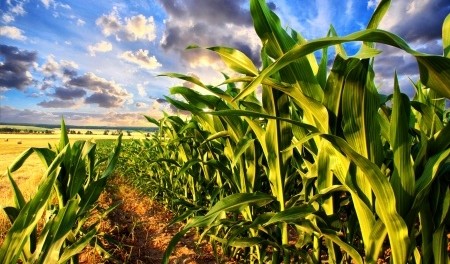 Answer:
Depending on the variety, it generally takes corn between 60-90 days to grow.
More Info: There are many corn varieties and hybrids making it difficult to answer definitely how long the corn you have chosen will take to grow from seed to maturity.  Early hybrid varieties can take as little as 60 days to grow while longer season varieties can take up to 120 days to grow.
Soil Conditions Affect Growth Rate
The temperature of the soil when planted can affect the growth rate of the plant.  For example planting in soil that is 50°F will result in a plant that emerges up to three weeks later, while planting in soil that is 70°F will result in a plant that emerges in less than a week.  Corn is a warm weather vegetable and as such performs better when planted in warm soil.
Optimal soil temperature for planting corn is between 60-95°F.
Staggering for Optimal Yields
With a little forethought and planning, you can enjoy continuous harvest yields throughout the season by staggering your planting times.  Plant new plants every 10-14 days.
Plant your final plants by taking into consideration the days to maturity of the variety you have chosen and the average first fall frost date for your area.
Resources
[1] "Sweet Corn in the Garden." Utah State University Extension. Utah State University, n.d. Web. 9 May 2011. <extension.usu.edu/files/publications/publication/HG_Garden_2005-10.pdf>.
[2] Lerner , Rosie , and Michael N Dana. "Growing Sweet Corn." Department of Horticulture Purdue University Extension. Purdue University , n.d. Web. 9 May 2011. <www.hort.purdue.edu/ext/HO-98.pdf>.