How to Clean a Carpet after Water Damage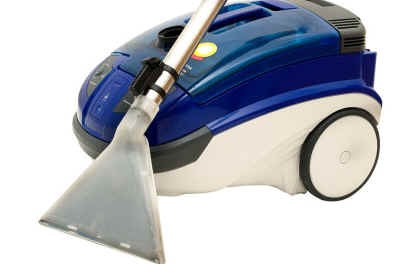 Cleaning a carpet after water damage successfully is dependent upon two main factors: what type of water caused the damage and how long the carpet has been affected. If possible, it is best to have the carpet cleaned professionally. In some cases, the carpet may need to be discarded.
Contaminated Water
If the carpet has been damaged due to a sewage overflow, it is best to discard both the carpet and padding. Wear boots, gloves, and a respirator before attempting removal. Once the carpet has been discarded, ventilate the room and clean the floor with a solution of detergent, bleach, and water to kill bacteria and inhibit mold growth.
Clean Up Procedure
If the carpet has been under water for more than 24 hours, it will likely need to be discarded. If it has been less than 24 hours and it has been damaged by clean water, you may be able to clean it successfully if the carpet has not been glued down. If possible, remove the carpet by lifting or rolling it across the floor and take it outside to a driveway or garage. If the carpet is too heavy to take it out of the room, lift it, place it on chairs or sawhorses, and allow the water to drain out. Avoid letting it dry completely as this will pull the carpet out of shape. Discard the padding.
If you cannot take the carpet outside, use a steam cleaner to clean the carpet, then use a dehumidifier and ventilate the room as much as possible. If you were able to take the carpet outside, lay it flat and hose it down with a strong spray in a sweeping motion, turn it over and repeat the spray of water. Use a disinfecting cleaner allowing it to soak into the carpet for a few minutes. Then, hose the carpet down again, making sure to thoroughly rinse out all of the cleaner. Use a wet-vac to extract as much water from the carpet as possible and allow it to dry flat.
Cleaning the Floor
Clean the floor with detergent and bleach to deodorize the room and inhibit potential mold growth. Allow it to dry thoroughly before replacing the carpet.
Expert Opinion
Quote:"Clean glued-down carpet in place before attempting to pull it up. Use a wet/dry vacuum to extract the water and then shampoo the carpet with detergent. Glued-down carpet may be adhered to asbestos-containing flooring material; confer with EH&S before pulling up the carpet. If the carpet is not glued down, roll up the carpet and move it to another location for cleaning. Remove and discard the spongy carpet padding. After the carpets are rinsed, quickly dry them by turning on the heat and using dehumidifiers. Wet carpet should be thoroughly dried within 48 hours; if this is not possible, discard the carpet. Materials contaminated with sewage or gray water must be completely discarded."
Source:  Procedures for Handling Water Damage  UC Irvine
Resources
"Handling Water Damage." UCI Environmental Health & Safety. N.p., n.d. Web. 22 Oct. 2010. http://www.ehs.uci.edu/programs/ih/handlingwaterdamage.html.
"Disaster Readiness, Response, Recovery." North Carolina State University Cooperative Extension. N.p., n.d. Web. 21 Oct. 2010. www.ces.ncsu.edu/disaster/factsheets/pdf/rugs.pdf.