How to Clean a Copper Sink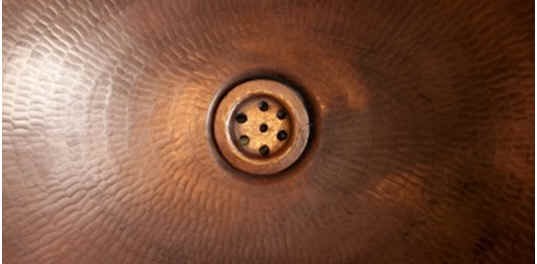 Routine cleaning of a copper sink could not be easier. Simply wash with soap and water then dry thoroughly with a soft cloth. If necessary, scrub with a sponge or nylon brush but nothing abrasive.
Why Choose Copper for Your Sink?
The best reason to buy a copper sink for your kitchen or bathroom is because of its incredible beauty. Copper sinks come in a surprising range of colors from pale bronze, through a spectrum of more recognizable reddish brown shades. At the dark end of the spectrum, your own specimen might even develop a deep black shade as its own characteristic patina evolves over time.
Perhaps surprisingly, copper sinks are more hygienic than their enamel, fiberglass stainless steel  and other counterparts. This is because the metal reacts with water to form a germicidal coating.
Copper sinks are also low-maintenance and practically indestructible.
What Is Patina?
Over time, water reacts with the surface of metal to create a delicate, living finish that continues to change. This process is called patination.
Will my copper sink turn green like copper statues and the copper roofs on old buildings?
No. The environmental conditions of a building or an outdoor statue are different from those in a kitchen or bathroom. The Statue of Liberty is an example of such an outdoor structure. Originally, it was a warm, welcoming color of reddish brown.
The green pigment achieved when a copper surface is exposed to  seawater or air over time is called verdigris. Usually a carbonate of copper, near the sea the surface of the metal is chemically changed to copper chloride. In the presence of acetic acid, copper is transformed into copper (II) acetate.
Resources
"Copper Sink Care – What You Need To Know About Caring For Your Copper Sinks ." Copper Sinks : Copper Kitchen Sinks : Copper Sink Vessels : Copper Farm Sinks. N.p., n.d. Web. 4 Sept. 2012. http://www.mexicancopper.com/care.html
"Frequently Asked Questions – Statue Of Liberty National Monument." U.S. National Park Service – Experience Your America. N.p., n.d. Web. 4 Sept. 2012. <http://www.nps.gov/stli/faqs.htm>.