How to Clean Sheetrock Walls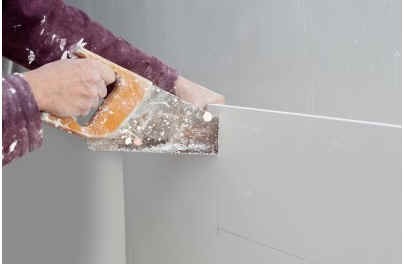 How you clean sheetrock walls will depend primarily upon the paint finish used on the surface. Properly finished sheetrock should have included a spray application of primer base coat followed by a back rolling with paint. Flat finish latex paint finishes will require a lighter hand when cleaning than a finish with gloss in it.
Sheetrock Wall Maintenance
Dust and odors accumulate on walls and will need to be cleaned on a routine basis. Spring cleaning is the perfect time to wash your walls. If your home acquires dust and odors quickly or you simply want to be more aggressive in your cleaning habits, set your maintenance schedule for a once a month spruce up, as long as you keep in mind that you don't want to soak your walls.
Since wetting your walls has the potential to cause damage over time, don't wash that don't it.
Periodic Wall Cleaning Needs:
Extra large grouting sponge
Gallon of warm water with a small amount of dishwashing liquid or a small amount of vinegar.
Dry, absorbent towel
Dip your sponge in the soapy water then wring it out until all water is extracted and the sponge is lightly damp. You do not want to excessively wet a sheetrock wall.
Work your way from the top such that you will wipe down any drips from above as you work your way down.
When finished, dry your wall in the same top to bottom fashion as you washed it.
Sheetrock Cleaning Tips
If you have stains, use a commercial cleaner recommended to remove the stain. Home remedies may work, but they also have the potential to damage the paint finish. Follow directions that match your paint finish.
Don't use a scrub brush or scouring pad on any paint finish.
Always test in an inconspicuous spot before using any specialized cleaning products such as Mr. Clean magic eraser. These products can remove the paint right along with the stain if the finish is flat or if only one coat of paint was used.
Resources
"Wallboard Finished Appearance, Managing Expectations and Best Practices." USG. N.p., n.d. Web. 11 June 2012. .
Cobb, Linda. The queen of clean's complete cleaning guide: banish dirt from your castle forever with 2,047 queen-tested tips. Emmaus, Pa.?: Rodale, 2002. Print.