How to Color Gray Hair at Home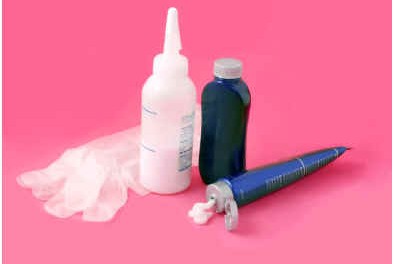 Even women who have never bothered to dye their hair before may consider it once they hit the stage where their gray hair begins to overwhelm their natural shade, but because getting your hair professionally dyed can be prohibitively expensive, many women are interested in learning how to color gray hair at home. Covering gray can be notoriously difficult, but you can be successful if you're willing to follow some basic guidelines.
Find the Right Dye
Gray hair is difficult to dye because it lacks the melanin to which hair dyes normally adhere. Gray hair is also coarser than normal hair, making it more difficult for dye to fully penetrate the shaft. If your hair is less than 40 percent gray, you have the option of using a semi-permanent dye to try to cover your gray and match your natural hair color. But if you are more than 40 percent gray, semi-permanent dyes will fade too quickly to be useful. Experts recommend you go with a permanent dye within two shades of your original youthful hair color.
Do Your Prep Work
Most home hair dying disasters can be avoided if you take the time to do a little prep work. If you've never dyed your hair before, test yourself for skin allergies to the dye well before you begin the process. This will probably require you to buy an extra box of dye to test on your skin the day before you dye your hair. If you prove not to have allergies, move onto the second prep step. Dye a small segment of your hair, preferably somewhere that isn't noticeable like underneath in the back, following all the instructions on the label. This way you can test how the dye will actually look on your hair before committing yourself. If you're happy with the results, proceed by dying the rest of your hair, following all the instruction on the label.
Maintenance
Dye applied to gray hair fades faster than it does on normal hair, but there are a few steps you can take to slow the process. Don't wash your hair for 24 hours after dying, and then wash your hair every other day, rather than daily, using only color safe shampoos and conditioners. Unfortunately, once your roots begin to show in six to 10 weeks, depending on how fast your hair grows, you'll need to dye again.