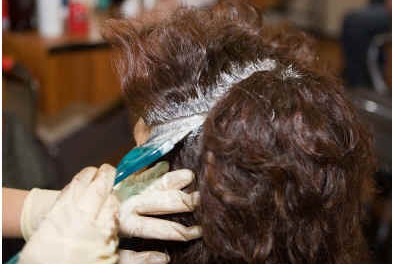 By following these tips on how to color gray hair, beautiful and natural-looking color can be achieved.
Color Selection
Choose a color that is suited to skin tone and natural hair color. Color includes not only the base color but tone–warm, cool or neutral–and intensity. To get an idea about suitable color, a wig or scarf can be held next to the face. Selection of a color one to two shades lighter than the natural color will result in natural-looking hair.
Salon Treatment
A professional can evaluate the amount of gray, hair texture, color and porosity and recommend products for coloring, conditioning and shampooing. If hair is just beginning to gray, temporary or semi-permanent dye may be best so that only the gray hair is affected by coloring. If there is a high percentage of gray, permanent dye may be recommended.
Home Coloring
Many people prefer to color at home. It is less expensive, and the variety of products available allows selection of a dye that complements natural tones and performs well on specific hair textures. Carefully read the instruction pamphlet included in the dye kit. When applying dye, remember that gray hair is more resistant to dye than hair with natural pigment, so dye must be applied for a longer time to gray areas. Dye may be applied to the rest of the hair for the last five minutes or combed through.
Expert Advice for Successful Color
Christophe Robin, hair-color expert from L'Oreal, offers several tips for successful home color. Deep-condition before and after coloring. Condition away from roots; the root is more porous and more absorbent so it may become heavy. Do not shampoo the day of coloring to preserve natural oils; wait to shampoo twenty-four hours after coloring to set color. Avoid sunlight.
Safety Precautions
The U. S. Department of Health and Human Services recommends following these safety precautions. Always conduct an allergy test by applying a small daub of dye on skin; wait 24 hours to see whether a reaction occurs. If there is no reaction, coloring can proceed. If there is a reaction, choose another brand and again test. Follow the manufacturer's directions. Leave dye on hair only the recommended amount of time, never longer, and always wear gloves to protect skin. Rinse hair thoroughly. Never apply dye to eyebrows or eyelashes; blindness can occur if dye goes into the eyes.