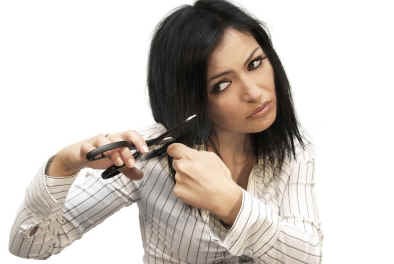 If you would like to know how to cut your own hair and skip the salon, it's simpler than you might image. You can save some money as well. Here are some basic steps to help show you how.
Getting Ready
Get your hair ready by first shampooing and combing all the tangles out. Have a spray bottle filled with water handy, to maintain wet hair. Wet hair is easier to cut. Also, make certain you have high quality, sharp scissors or clippers, to avoid pulling on your hair.
Cutting a Simple Hairstyle
It's a good idea to start with classic, simple hairstyles. For beginners, cutting all the hair one length works well. After you have chosen an attractive style, comb out the hair straight and firmly hold a small section with your middle and index fingers. Then, measure it with a ruler to determine the right length for the style that you have chosen. Snip off the correct amount and repeat until all the hair has been cut.
Maintain a Professional Cut
Alternatively, let a stylist cut your hair initially and then just maintain it by trimming the ends of all your hair, by the same amount on a monthly basis. Keep in mind that hair on one side typically grows faster than the other does. An occasional appointment with a stylist can cut anything uneven.
Cutting Hair by Leaning over
It's also easy to cut wet hair by bending over and then combing all of it forward and straight. Use your fingers to smooth out small sections of the hair. In a single, straight line, cut across all of the hair. Check to see if the hair is straight, by combing it out to the hair ends and feeling across the bottom edge. Divide the hair in the center. To further check that all the ends were evenly cut, by using your middle and index fingers to hold small sections of hair. Any uneven hairs can be simply snipped off.
Curly Hair
Curly hair needs to be cut longer then the length of the chosen style. This is because as curly hair dries, the bend of the curl will make it shorter. For coarse or thick curls, a small section should be used while cutting. If too much thick hair is held as you cut, it can bend inside the scissor blades and end up making an uneven cut.
Resources
Bozic, and Lee Pola
Cutting Hair at Home
New York: Plume, 1986. Print.
Obiedo, Marsha(Author) ;, Cathy(Author); Allin, and Claudia(Author) Heckman How to Cut Your Own Hair (or Anyone Else's!): 15 Haircuts with Variations New York: Black Dog & Leventhal Publishers, 2008. Print.
Spear, J. Elaine
Haircutting for Dummies
New York: For Dummies, 2002. Print.