How to Dye Hair with Food Coloring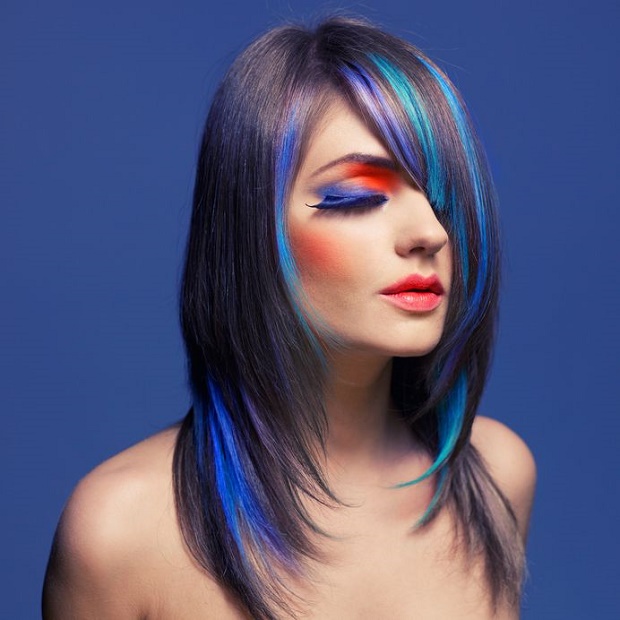 Dyeing your hair with food coloring is a fun, safe and inexpensive way to try out a new look or add highlights. Food coloring is non-abrasive, and will not damage your hair like harsh chemical compounds. You may use this semi-permanent rinse to color all of your hair, or to creatively streak a few strands. Follow these simple instructions for a great result.
Precautions: Anything that can dye hair has to potential to stain other things such as skin, towels and clothing. Take the same precautions you would with any dye. 
Supplies
Empty shampoo or applicator bottle
Plastic gloves
Liquid food coloring (desired shade)
Shampoo
Water
Shower cap
Old towel
Application
Step 1: Slip on plastic gloves and place an old towel around your shoulders to catch unavoidable drips and protect your clothes.
Step 2: Mix food coloring and shampoo in the empty bottle (for every ounce of shampoo, add 6 drops of coloring until you have the desired quantity, depending on the amount of hair you wish to cover).
Step 3: Make sure the lid is tight, and shake the bottle until contents are thoroughly blended. Add 1 tablespoon of water and shake again, for about 2 minutes, to ensure even color application.
Step 4: Wet your hair.
Step 5: Starting at your roots, apply the food coloring mixture, working it in thoroughly.
Step 6: Cover with an old shower cap, tucking all your hair inside.
Step 7: Leave in for 30 minutes to 3 hours, depending on your original hair color (light hair will absorb dye more quickly), and the degree of color you wish to achieve (rinse and dry a small section to check color intensity).
Step 8: Thoroughly rinse out the colored shampoo mixture.
Step 9: Towel or blow dry.
Streaking and Highlighting
You can also cover only selected strands, by pulling back any areas that you do not want to color and applying the mixture to the remaining hair with the applicator, a cotton swab or your fingertips. If you wish to make designs, you can cover the area of the strands you do not wish to dye with paper or foil before color application.
Color Mixing Magic
Experiment and create your own designer food coloring shades by mixing colors. Blue and red make purple, green and blue make teal, yellow and red make orange, red and green make brown – the possibilities are endless!
Precautions and Useful Tips
Do not wash your hair for 3-5 days after applying the mixture to best preserve the color. This dye is semi-permanent, and should last between 2 and 4 weeks.
Use old towels, and wear old clothes and plastic gloves when applying dye. Food coloring can be messy, temporarily staining your skin and other surfaces. Shaving cream and lemon juice are both good for removing (and fading) stains.
It is recommended to wait one week before and after a perm or relaxer when considering this procedure.
To avoid an "Easter egg runaway" look, consider doing a strand test (from your hairbrush) prior to coloring.
Food coloring will not completely cover gray hair; it will just add tints and highlights.
Resources
American Journal of Epidemiology
Personal Hair Dye Use and Risks of Glioma, Meningioma, and Acoustic Neuroma among Adults
http://aje.oxfordjournals.org/
Cancer Causes Control
Hair dyes and risk of glioma among Nebraska women
16:857–64