How to Give a Hand Massage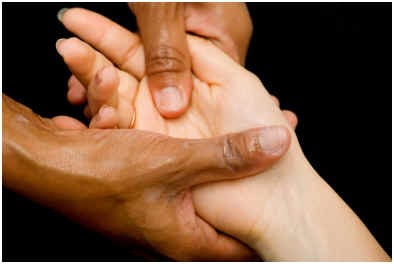 Discover how to give a hand massage just like a professional. As with most massages, there is no one specific right way, just some effective techniques so feel free to ad lib.
Contraindications
Hands contain many pressure points that are believed to interact with other parts of the body. A hand massage may not be suitable for anyone with certain illnesses, cancer, had recent surgery, heart problems or organ dysfunctions. You also shouldn't give a massage to a pregnant woman, anyone with a contagious disease, or open cuts, sores or blisters.
How to Give a Hand Massage
Remove all jewelry; clean both parties' hands.
Prepare the lotion and towels (1 hand, 2 bath sized); set an ambient mood; establish a feedback system. Get comfortable and spread towels over laps.
Warm up the lotion; apply it to the entire hand, with gentle, sweeping motions.
Firmly grasp the hand (palm facing down) with both of your hands, placing your thumbs at the wrist and all your other fingers on the palm. While applying pressure to the meaty parts of the palm (around thumb and outside finger) with your fingers, apply pressure to the top of the hand by gently gliding your thumbs down. Try to stretch the palm's meaty areas outward while gliding downward along the outside areas of the hand.
Repeat step 4, moving inwardly towards the center of the hand each time until all the fingers have been done two or three times each.
Using your thumb pad and the outside edge of your index finger, gently squeeze the base of each finger and the thumb as you gently pull your thumb pad and index finger down to the finger tips of the person's hand.
While holding the base, gently rotate each finger both directions.
Flip the hand over, massage the palm, and then repeat steps 6 and 7.
Finish up the massage by gently wiping any excess lotions off the person's hand with the hand towel.
Resources
"How To Give a Hand Massage * Pain Relief * Massage Therapy." Health and Fitness Videos – health, diets, fitness, excercises, massage, nutrition advice. N.p., n.d. Web. 12 Apr. 2010. http://www.healthvideojournal.com/watch/46605/How-To-Give-a-Hand-Massage-Pain-Relief-Massage-Therapy.
"Printable hand reflexology chart.." Therapeutic Exercises, Exercise Programs, Massage & Breathing Techniques. N.p., n.d. Web. 12 Apr. 2010. http://www.chinese-holistic-health-exercises.com/printable-hand-reflexology-chart.html.
"Women's Health West :: Self Massage." Women's Health West :: Home. N.p., n.d. Web. 12 Apr. 2010. http://www.whwest.org.au/healthinfo/selfmassage.php.