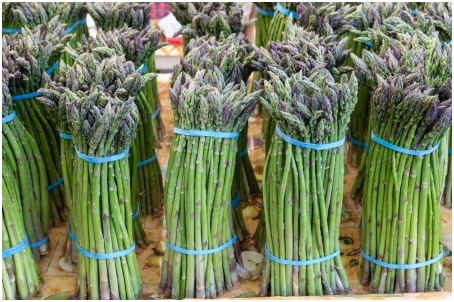 When to Harvest Asparagus
Asparagus is ready to be harvested when the spears reach seven to ten inches in length.  As they grow, the stems will grow woody and the tips will begin to open. Harvest your spears early in the morning when the temperatures are still cool.
How Often to Harvest Asparagus
Newly planted asparagus should be given at least two full growing seasons before any spears are harvested.  In year three, spears can be harvested when they reach seven to ten inches in length.  Harvesting should be light the first year over a two to three week period.  The following year, harvesting can be a bit more aggressive over a four to five week period.  By year five, harvesting can be performed as needed.  Established plants can be harvested over an eight-week period.  Discontinue harvesting after this point to allow the plant to reinvigorate.  Over harvesting can result in weakened less productive plants in following seasons.
How to Harvest Spears
To harvest asparagus spears, you can either cut or snap them.  To snap them, firmly grab the spear at ground level and bend toward the ground.  The spear will snap at the point above fiber development.
You can also use a sharp knife to cut the spears that are ready to be harvested.  Make sure that your garden utensils are clean and disinfected to ensure that you do not spread any viruses that may be present in the garden.
Resources
"Asparagus in the Home Garden." Utah State University Extension. N.p., n.d. Web. 27 Feb. 2014. <http://extension.usu.edu/files/factsheets/asparagus.pdf>.
"Growing Asparagus In The Home Garden, HYG-1603-94″ Ohio State University Extension. N.p., n.d. Web. 26 Feb. 2014. <http://ohioline.osu.edu/hyg-fact/1000/1603.html>.