How to Install a Garbage Disposal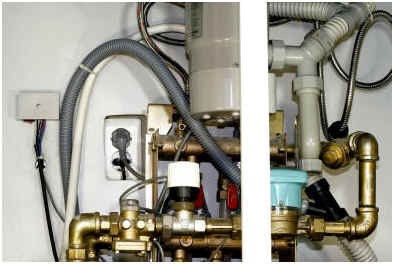 This step by step guide to installing a garbage disposal may be beneficial to the do-it-yourself plumber. Installing a garbage disposal is considered to be an easy to medium difficulty level project. It usually does not take more than a couple of hours.
Tools and Materials Needed:
Screwdriver (flat-head and Phillips)
Channel-Locks or adjustable pliers
Hacksaw or tubing cutters
Wire nuts
Plumber's putty
Cleanup rags
Steps:
Turn off electricity to the electric power supply
Remove existing drain pipes and strainer, then clean off the old plumber's putty
Apply ¼ to ½" bead of plumber's putty to drain opening, drop in the new flange, and press evenly around the flange.
Install the mounting assembly (fiber gasket first, mounting ring next, and then the snap ring). Screw them into place by alternating turns until the mounting assembly sits evenly and tightly against the sink.
If connecting unit to a dishwasher, use a hammer and flat-head screwdriver to tap out the dishwasher knockout plug. Remove the plug from inside of the disposer. Do not remove the plug otherwise.
Lay the unit on its side and remove the electrical plate covering. Use wire nuts to connect the disposal's wiring to the matching colored electrical power supply wires (i.e. white to white, black to black). Attach the power cord, if necessary, and then replace the plate cover.
Mount the disposal by aligning the mounting tabs on the unit with the mounting tabs on the mounting assembly. Turn the disposer clockwise until all three tabs are locked in place and the unit is able to hang by itself. Slide the metal flange and rubber gasket into the discharge outlet. Then rotate the unit until the discharge tube aligns with the drain trap. Connect the discharge tube to the drain trap, cutting off any excess tubing or adding an extension if needed.
If adding a dishwasher, connect the dishwasher to the knockout plug, using an air gap, water hose, and a water hose clamp
Lock the disposal unit into position with a screwdriver (or special wrench, if one came with the disposer), then check for any leaks. Especially watch for leaks at the points of connections. If there are no leaks, then turn on the electricity and test the disposal's operation.
Resources
"How to Install a Garbage Disposal : How-To : DIY Network." DIY Network – Home Improvement How-To & Projects : DIY Network. N.p., n.d. Web. 25 Mar. 2010. http://www.diynetwork.com/how-to/how-to-install-a-garbage-disposal/index.html.
"How to Replace Your Garbage Disposal: Step-by-Step DIY – Popular Mechanics." Popular Mechanics. N.p., n.d. Web. 25 Mar. 2010. http://www.popularmechanics.com/home_journal/home_improvement/1276526.html?page=2.
"InSinkErator | Garbage Disposer Installation, Garbage Disposal Installation." Garbage Disposal | Kitchen Garbage Disposers | Food Waste Disposers | Garbage Disposals – InSinkErator. N.p., n.d. Web. 25 Mar. 2010. http://www.insinkerator.com/service/install_disposer1.html.