How to Install Laminate Flooring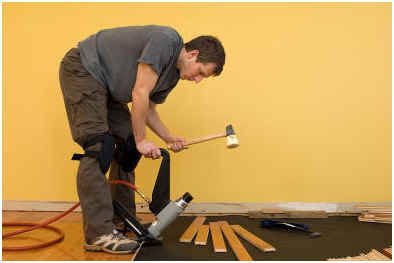 There are many reasons to install laminate flooring. They are easy to install, require low maintenance, and last a very long time. Installing laminate flooring can be an easy or difficult task. With the proper information and preparation, you can easily install it yourself.
Materials Needed
Gather your materials. You will need: a rubber mallet, pull bar, coping saw, tape measure, floor scraper, 1/2 inch spacers, underlayment padding, and laminate flooring. You will also need to allow your laminate floorboards to be laid out in the room to acclimate to the temperature in your house. Try to let them set for at least 2 days.
Preparation
Remove all base molding and place in a safe place. If you have another type of flooring, it will need to be removed. Start by removing all tacks around the edge of the room. Remove as much padding as possible and scrape off any adhesive and debris off the ground with a floor scraper. Make sure that the floor is even as possible. If there are any dips, you may want to repair these before laying down the underlayment padding. If you do not, you will have uneven floors, which will be noticeable in the end.
Installation
Begin installation by laying down the padding around the room. Secure it to itself with clear tape to make it easier to work with. Remember, you will need to put 1/2 inch spacers around the edge of the room to make sure that flooring has room to expand. This will not be seen when the molding is reinstalled. Start laying down the floor planks. Begin at a wall with a spacer and work towards doors, as these are more difficult to work with and will require cutting. Using your rubber mallet, lightly tap the boards together at the joints . Make sure to stagger the rows at least 6 inches to increase strength and give the floor appeal. The last plank will be the most difficult. It will need to be cut lengthwise to fit the last row. Replace your molding and enjoy your work.
Resources
"Install Laminate Flooring : Decorating : Home & Garden Television." HGTV – Decorating, Outdoor Rooms, Landscaping Ideas, Kitchen and Bathroom Design : Home & Garden Television. Web. 09 Nov. 2010. http://www.hgtv.com/home-improvement/install-laminate-flooring/index.html.
"Pergo Installation Essentials Guide for Laminate Flooring." Pergo. Pergo. Web. 2010. http://na.pergo.com/Images/how_to/Install_Essentials_Guide.pdf.