How to Keep Granite Countertops Clean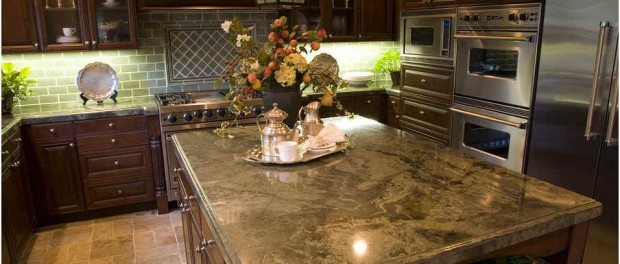 Granite is a very popular natural stone used by homeowners to cover kitchen and bathroom countertops not just in America, but all over the world. In fact, in some parts of Italy granite is more common than the states due to its availability. To keep them looking their best you need to know how to keep your granite countertops clean.
A Look at Granite
An Igneous rock, granite is formed when a volcano erupts and the resulting magma rises to the surface and cools. The magma traps minerals inside the molten rock and produces the stones unique color, texture, and patina when it cools.
The most common sources of granite are quarries in China, Brazil, and India, but new sources are popping up in dozens of countries around the world. Each quarry produces its own unique color and quality of stone. The popularity of granite is due largely to its durability after being used as a pavement and curbing material that could withstand decades of vehicular abuse.
What to Expect After Installation
The granite countertop should be secured to a sturdy foundation such as wood or steel. Despite the fact that granite is a stone and may appear rigid, supports that do not provide adequate structural coverage for the entire countertop may result in cracking. Foundations, which are often built of plywood can change in size and strength due to water damage, warping, breakage, or stress and should be checked annually to insure contact over the entire surface of the stone.
After installation of the stone, a sealer should be applied to the stone and again once a year for the next five years. The purpose of the sealer is to build a barrier against stains and this is especially important due to the porous nature of the stone.
How to Keep Granite Countertops Clean
The natural properties of granite (porous and dense) resist most elements that come in contact with the stone, but granite is particularly susceptible to acids like vinegar. Therefore, the best practice is to keep the granite surface clean. Wipe up stains and spills quickly, especially around sinks where detergents and other agents can leech into the stone.
Countertops can be cleaned easily with a clean cloth and a mild soap. Commercial stone cleansers are also available, but it is important to select cleansers that are geared toward granite and have a low hydrogen potential (HP) so as not to leave a cloudy appearance or film on the stone.
Resources
"Marble Institute of America: Consumer Resources – Natural Stone Care and Cleaning." <em>Marble Institute of America.</em> N.p., n.d. Web. 22 Feb. 2010. <http://www.marble-institute.com/consumerresources/care.cfm>.
"Granite Counter Top Care: Do's & Don'ts." <em>Granite Countertop: Silestone Countertop, Corian, Quartz and Marble.</em> N.p., n.d. Web. 22 Feb. 2010. <http://www.countertopspecialty.com/granite-counter-top-care.html>.