How to Make a Tequila Sunrise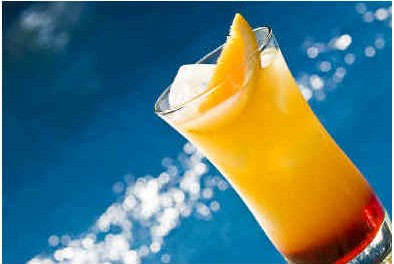 According to The Everything Bartender's Book, in the early 1500's the Aztec ruler Montezuma offered Cortez wine made from the agave plant when he landed in Mexico. Cortez then took the wine and had it distilled into what we now know as tequila.
The tequila sunrise is simply a screwdriver made with tequila and the addition of grenadine. The name was derived from the look of the drink before it stirred when the grenadine sinks to the bottom.
What Is In a Tequila Sunrise?
2 oz tequila
3/4 oz grenadine
Orange juice
How to Make a Tequila Sunrise
Fill an 8 ounce glass with ice.
Add the tequila and fill the glass with orange juice leaving plenty of room at the top to add the grenadine.
Mix well.
Tilt the glass and add the grenadine and serve immediately. The grenadine will first sink to the bottom and then slowly work its way toward the top of the glass.
Variations
Tequila Sunrise with Patrón®
2 oz Patrón® silver
4 oz freshly squeezed orange juice
2 dashes of grenadine syrup
Orange slice to garnish
1800® Tequila Sunrise
2 oz 1800® Reposado Tequila
4 oz orange juice
2 dashes grenadine
Resources
Katsigris, Costas, and Chris Thomas. The Bar & Beverage Book . 4th ed. Hoboken, N.J.: John Wiley & Sons, 2007. Print.
"Patron Tequila Sunrise." Patron Tequila. N.p., n.d. Web. 10 May 2011. http://patrontequila.com/#/cocktails/all/tequila-sunrise/.
Charming, Cheryl, and Jane Parker Resnick. The Everything Bartender's Book: Your Complete Guide to Cocktails, Martinis, Mixed Drinks, and More!. 3rd ed. Avon, Mass.: Adamsmedia, 2010. Print.
"1800® Tequila Sunrise." 1800® Tequila. N.p., n.d. Web. 10 May 2011. http://www.1800tequila.com/index.php