How to Make Roller Shades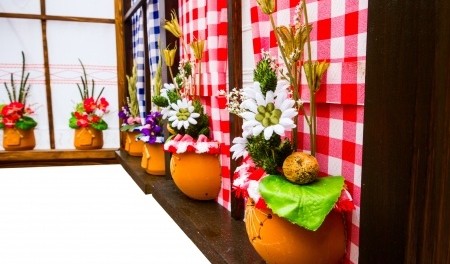 You can actually make a set of roller shades without too much effort, yielding stylish, functional window treatments that will service your home for many years to come.
Step One: Measure and Cut Your Materials
First, measure the length and width of your windows using a tape measure. Next, you will need to prepare some type of cylinder that will serve as the shades' rolling mechanism. A plastic tube would be the ideal option in terms of durability; however, a cardboard tube is much easier to cut and can be obtained very inexpensively. (If you want your shades to roll up you will need to buy a custom kit) Cut your chosen cylinder to a length that is roughly one half of an inch shorter than the width of your window. You are then ready to prepare your fabric. Add six inches to the length of your window and cut your fabric to this size. Reinforce your fabric with a corresponding length of interfacing.
Step Two: Sew the Fabric onto the Roller
Wrap one end of your fabric around the roller, pinning it into place. Remove the roller from the inside of the fabric. Next, use a basic-stitch function on a sewing machine to secure the fabric onto the roller. Alternately, you could fasten the fabric and the tube together using adhesive tape or hot glue, although traditional stitching tends to hold up best to regular use.
Step Three: Install Your Roller Shades
Mount some basic 1/4 inch knobs on the inner wall surrounding your window (Make sure that your tube will fit over these knobs before making any purchases). Finally, simply place the roller over the knobs, and enjoy the stylish new window treatments that you have created.
Resources
Hiller, Shari. "Update Roller Shades With Decorator Fabrics : Decorating : Home & Garden Television." HGTV – Decorating, Outdoor Rooms, Landscaping Ideas, Kitchen and Bathroom Design : Home & Garden Television. N.p., n.d. Web. 14 Dec. 2010. http://www.hgtv.com/decorating/update-roller-shades-with-decorator-fabrics/index.html.
"Fabric Roller Shade Kit : home decor notions : sewing & quilting : Shop | Joann.com ." Home : Shop | Joann.com. N.p., n.d. Web. 14 Dec. 2010. http://www.joann.com/joann/catalog/productdetail.jsp?CATID=cat3065&PRODID=prd17909.