How to Measure for a Valance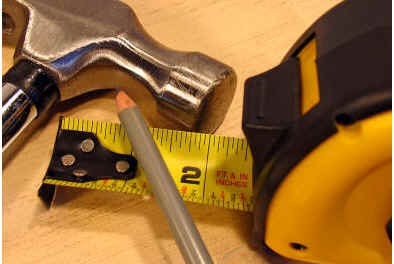 A window valence is a short curtain that hangs at the top of the window. You can choose between a ruffle or panel valance. The two different types of valances are measured differently. Start your measurement process with a carpenter's tape measure, not a fabric tape measure. This will give you a more exact measurement. Don't rely on the window width measurement for your valance measurement. Measure between the curtain rod mounts, which will fit outside of the window. The only exception to this rule is if you are using a spring rod that fits inside of the window. You do not need a length measurement for valances.
Ruffle Valances
Measure across between the curtain rod mounts. If you have a curtain rod that projects from the wall, three inches for each side. For rods that fit against, or close to the window frame, use the original measurement. Multiply your final measurement by 1.5. For a fuller valance, multiply your measurement by 2. For example, if your measurement is 30 inches, your valance measurement should be 45 inches to 60 inches. You will find that commercial valance widths vary. Choose as many valance pieces needed to fit within the final measurement range.
Panel Valances
A panel valance is fitted to the window and must be closer to your measurement. If you are using a curtain rod that is flat or close to the window frame, purchase your panel valances before attaching the rod mounts. Purchase the number of panels that are closest to that measurement, but not less. You don't want the panels to be too narrow and expose the windowpanes. Measure between where you believe you will attach the mounts, for a general idea of the panel widths. After you have the panels, use the exact measurements of the panels to decide where to place the rod mounts. The valance panel edges should fit very close to the mounts.
When using a rod that projects from the wall, measure the exact width, from one mount, outward as it projects towards you, across the rod and back into the projected area on the other side. You may think that you have to purchase valance panels that are this exact measurement. However, most of these types of rods expand and contract at the center rod. It is a good idea not to attach the rod mounts until you have the valance panels, so you can make adjustments as needed for the width.
Resources
How to Measure Drapes and Curtains." Factory Direct Drapes. N.p., n.d. Web. 19 Jan. 2011. http://www.factorydirectdrapes.com/store/comersus_howtomeasure.asp.
Hiller, Shari. "Homemade Valance for Spring : Decorating : Home & Garden Television." HGTV – Decorating, Outdoor Rooms, Landscaping Ideas, Kitchen and Bathroom Design : Home & Garden Television. N.p., n.d. Web. 19 Jan. 2011. http://www.hgtv.com/decorating/homemade-valance-for-spring/index.html.