How to Measure for Interior Shades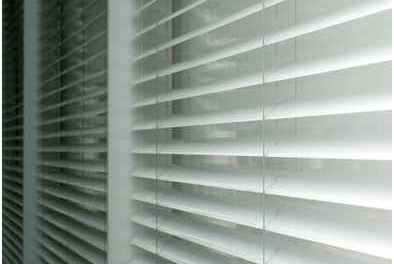 Measuring for interior window shades contains an array of variables that are dependent on what type of shades you are interested in using for your particular space. As a way of controlling the amount of light entering a room, interior shades are also a decorative aspect of a room that create a cozier more inviting ambiance that looks pulled together and coincides with the surrounding rooms.
Deciding Where to Hang Your Shades
Getting an accurate measurement can ensure that window shades fit properly and perform the correct function needed: shading light and creating a beautiful look that complements your decor. Before measurement takes place and you unload the toolbox to decide which sizes are necessary for your space, you must decide what section of the window suits your style and preferences. For a look resembling curtains and offering a cozier feel, you should measure the outside the frame of the window, in the interior of the home. For a more modern appearance, measurements should be taken inside of the window's frame.
Choosing the Right Tools
Selecting simple tools can make measurements simple and efficient. Use a steel tape measure with ample length to measure multiple sides and widths. Paper and a writing utensil should be kept handy and notes regarding special sizes should be marked clearly regarding which measurement corresponds to each particular side.
Taking Measurements
It is very important to measure both top to bottom and side to side of the window frame, accounting for where the treatment will be located. If the shade will be hung inside the window frame, you should measure in that specific section. On the other hand, if the shade will hang from the outside of the frame, as previously noted, you must measure outside of the frame in the specific place the window treatment will hang. In addition to measuring the length and height of the window, you must also take measurements of the width of the sill and frame to insure that the thickness of the shade can be accommodated by the window width. Allow room for where the shade will be hung and the hardware that will secure it. For example, a shade that will hang on hardware secured by brackets must be allowed an extra couple inches at the top, which must be added to the specific measurements noted.
Resources
"How to Measure Window Blinds & Shades, How to Install Window Blinds & Shades." Blinds | Window Shades | Window Coverings | Window Treatments . N.p., n.d. Web. 12 Jan. 2011. http://www.blindsgalore.com/measure_install.asp.
"How to Measure for Roller Shades – Measuring Instructions." Discount Faux & Wood Window Blinds, Window Shades, Mini Vertical Blinds. N.p., n.d. Web. 12 Jan. 2011. http://www.justblinds.com/roller-mm.cfm.