How to Polish Leather Shoes at Home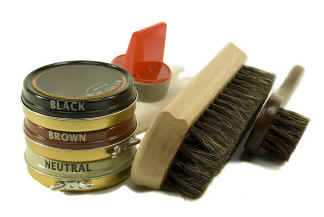 You need to know how to polish leather shoes at home regardless of how expensive or well-made they are. If you do not maintain them by applying shoe polish regularly, they will look old right away. Here is a simple guide on polishing your shoes properly.
Polishing Leather Shoes
Lay out old newspapers which you will use to cover the floor or table you are polishing over.
If your shoes have laces, remove them before cleaning and polishing your shoes.
Clean your leather shoes with a soft, damp cloth before polishing. It is important to remove the dirt, dust and debris that have attached to your shoes in the course of using them on a daily basis. You can also use a shoe brush to clean your shoes. One made out of horsehair would be a good choice.
Apply a quality shoe polish or shoe cream from a reputable brand. The color of the polish should match that of the shoes you are polishing. Apply the polish lightly with the cloth wrapped around your fingertips, so as to avoid unnecessary scratches on the leather. Some shoe polish brands come in a convenient dispenser that do not require the use of a separate cloth for its application.
When the polish dries, buff your shoes with another piece of cloth, such as an old t-shirt. Use different parts of the cloth for polishing different pairs of shoes, so that the colors do not contaminate each other.
Buff your shoes a second time but this time, spray your shoes with a little water.
To maintain the luster of the polish, you can spray on or apply stain repellants or shoe protectors.
Store your shoes in a shoe box when they are not in use. You may also use a shoe bag for this. Stuff crumpled paper into the shoes to maintain their shape. Investing in shoetrees is also a good idea.
Resources
Facts & Tips." Kiwi Shoe Care Products – The Official Kiwi Website. Web. 29 Aug. 2010. http://www.kiwicare.com/US/ShoeCare/.
Woodward, Fred. "How to Polish Your Shoes: Style: GQ." GQ Magazine Online: Look Sharp, Live Smart: GQ. 4 Aug. 2009. Web. 29 Aug. 2010. http://www.gq.com/how-to/fashion/200903/polish-one-off.